How Does the ARTAS Robotic Hair Transplant System Work?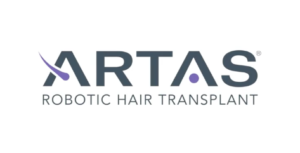 A revolutionary way to address hair loss, the ARTAS® Robotic Hair Transplant System is an innovative technology that can make hair transplant surgery more efficient and comfortable than ever before. Our experienced hair restoration surgeons, Dr. Robert Leonard and Dr. Matthew Lopresti, perform this state-of-the-art procedure in our Newton, Massachusetts surgical center. What makes this approach so effective is the hair selection and harvesting algorithm, which helps achieve the most natural-looking results possible.
The ARTAS® System is completely controlled by our extensively trained surgeons. What the technology does is identify the density and number of the follicular units (which contain 1-4 hairs each) in the donor area, as well as their angle and depth, in order to harvest the hairs with little damage to the units or leaving noticeable patches in the donor site. This process also eliminates the linear scar that is common with traditional hair transplant techniques. Once the follicular units have been harvested, they are transplanted into the regions of thinning hair as directed by the customized treatment plan created by Dr. Leonard or Dr. Lopresti. Patients typically experience less discomfort using the ARTAS® System, and they can also enjoy the flexibility of hairstyle length in the donor area.
The ARTAS® Robotic Hair Transplant System is just one of our many advanced hair restoration techniques. To learn more, simply reach out to our friendly and knowledgeable team.