Leonard Hair Transplant Associates Introduces the Revolutionary ARTAS® Robotic System to Massachusetts
NEWTON, MA – June  8, 2015 – Leonard Hair Transplant Associates (LHTA) today announced they have installed the revolutionary ARTAS® Robotic System in their Newton, MA office — the first and only FDA-cleared, physician-controlled, computer-assisted technology for hair transplantation.  This minimally invasive solution offers patients permanent results without linear scarring, and the system's robotic precision provides unprecedented levels of safety, efficacy, and comfort in hair restoration treatment.
Leonard Hair Transplant Associates currently offers ARTAS® procedures at the LHTA Cranston, RI location, and now have introduced the ARTAS® Robotic System in the Newton, MA office.  LHTA is the only hair restoration practice in Massachusetts, Rhode Island, New Hampshire, Vermont, or Maine offering hair transplant procedures using the ARTAS® device.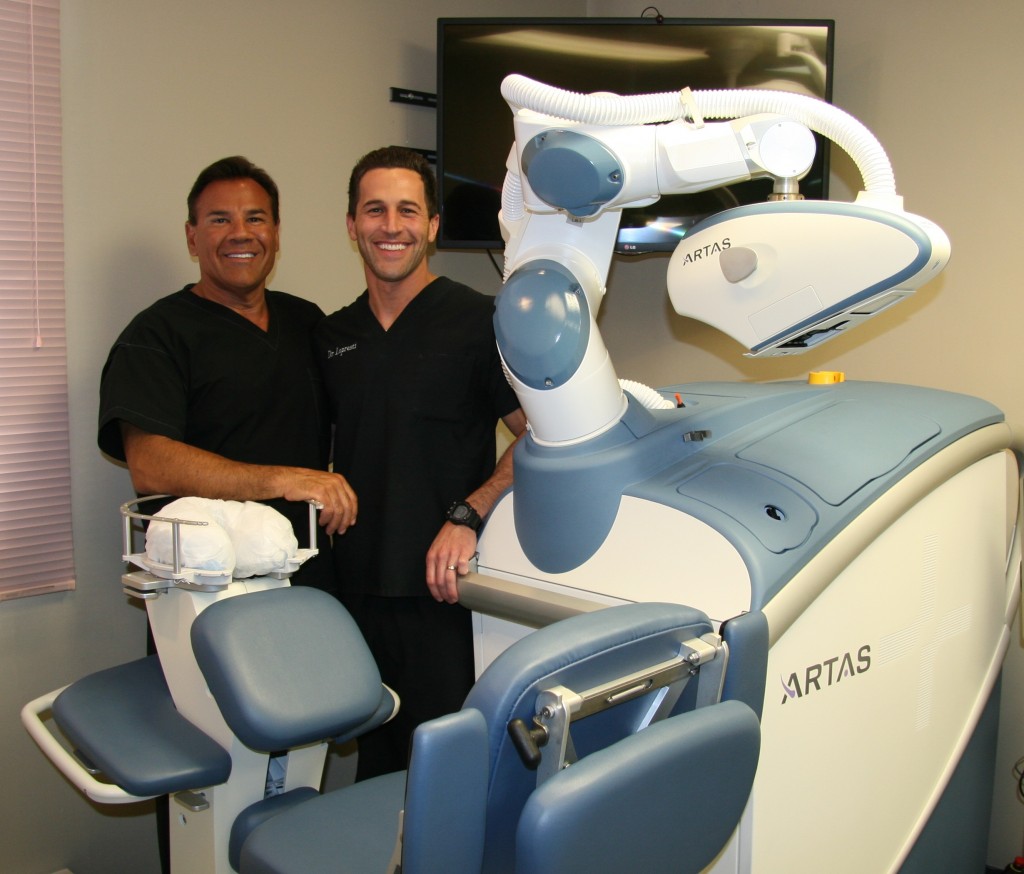 "For the last 28 years, Leonard Hair Transplant Associates has always been at the forefront of hair restoration procedures and therapies," said Dr. Leonard.  "We are thrilled to be expanding our ARTAS® technology to patients in Massachusetts. The ARTAS® Robotic System is the most sophisticated device available anywhere in the world for harvesting grafts using the Follicular Unit Excision (FUE) technique.  This state-of-the-art device will provide yet another surgical solution for my patients."
Over 50 million men in the United States suffer from hair loss.  It is a very prevalent issue that many people face; however, many don't realize it, are in denial, or are intimidated by the idea of a hair transplant procedure.  Moreover, when individuals finally notice that hair is falling out, they have already lost approximately 50% of their hair.  In order to help this large portion of the population look and feel good about their appearance, Leonard Hair Transplant Associates provides a variety of treatment options. Drs. Leonard and Lopresti are extremely excited to offer the new ARTAS® solution to their patients and are confident it will yield positive results.
Starting in June, LHTA will be offering ARTAS® hair transplant procedures to patients in Newton, Massachusetts.
About Leonard Hair Transplant Associates:
Leonard Hair Transplant Associates offers the latest technology in hair restoration surgery and medical treatments, customized to meet individual patient hair loss needs, including ARTAS® Robotic System, Traditional Hair Transplantation, NeoGraft™ Automated FUE Hair Transplantation, Capillus272 Laser Device, and Propecia®. With offices in Cranston, Rhode Island; Boston, Worcester, Hyannis, Braintree, and Newton Centre, Massachusetts; and Salem, New Hampshire, Leonard Hair Transplant Associates is dedicated to providing an honest, realistic medical evaluation of each individual's hair loss problem. For more information, visit www.hairdr.com.
About Restoration Robotics:
Restoration Robotics, Inc., a privately held medical device company, is dedicated to revolutionizing the field of hair transplantation by developing and commercializing its state-of-the-art image-guided ARTAS® System. This interactive, computer assisted system uses image guided technology and precision robotics to enhance the quality of hair follicle harvesting for the benefit of physicians and their patients. To learn more about the ARTAS System and its unique technology, visit www.restorationrobotics.com or www.artashair.com.