His Royal Baldness? Prince Harry show signs of balding
For my entire life, I have been a huge fan and follower of the British Royal Family.  One year while visiting London, I missed seeing Queen Elizabeth II and Prince Philip in person by a mere three hours.  What a disappointment that was for me.  God bless that they are living very long and productive lives, so there still is hope!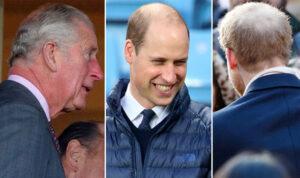 As a hair restoration surgeon for three decades, I have gotten to see the progression of hair loss of Prince Charles from the days he was courting Princess Diana until today.  I have followed Prince William's hairline recession and thinning since he was in his early twenties.  Several years ago, I wrote about the treatments for early hair loss and referenced him, hoping that he (or his lovely Duchess) would take heed and begin hair loss stabilization therapies.  Apparently, becoming bald does not bother him.  This, of course, is not a problem at all.  Many men decide to "bald gracefully"; however, it is my long experience that most men would rather have hair than not have it.
Dr. Matthew Lopresti and I at Leonard Hair Transplant Associates are passionate about preserving our patients' hair.  Patients who come in for their consultations are actually surprised at how important we think stopping progression is—especially young patients, who, typically, are not candidates for hair restoration surgery.  People, in fact, often comment to us that they would have thought we would much rather have patients who only wanted to have hair transplant surgery.  Don't get me wrong, we certainly are happy about having our transplant patients; however, it is important for us to be able to effectively stop continuation of the ever-progressing process of male pattern baldness.  Contrary to what we hear every day in the office from our patients, it will not stop on its own!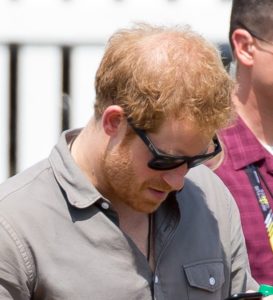 This brings me to the newly engaged Prince Harry.  It appears to me that he is rapidly following the trait of both of his grandfathers and of his father when it comes to balding (his brother's hair status actually doesn't count in the genetics of Harry's androgenetic alopecia).  He truly should consider heeding my advice:  it is easier to keep your hair versus to restore it and treat early versus later!
Currently, we have only three medically proven treatments:  the CapillusRx laser device, Propecia oral tablets, and Rogaine Foam topical treatment.  Each is effective on its own, though, in combination, they are much better.
Given that the entire world will be watching his and Megan Markle's upcoming wedding, I suggest he begin treatment right away since all of them take about four months to become slow down hair thinning and about a year to 18 months to re-grow hair.  No matter what he decides or not to do about his thinning hair, I wish all the best and a life full of safety and happiness for the future newlyweds!
Dr. Robert Leonard
Founder of Leonard Hair Transplant Associates