Dr. Mary Lopresti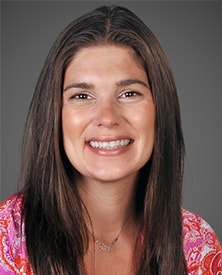 It is with great pride that Leonard Hair Transplant Associates announces the appointment of Dr. Mary Lopresti, DO to the position of hair restoration surgeon. Dr. Mary Lopresti joins her husband, Chief Surgeon Dr. Matthew Lopresti, to treat patients with a wide range of specialized, industry-leading hair restoration options. Her extensive experience in medicine and her caring approach to patients make her a wonderful addition to the practice.
Background and Education
She attended University of Connecticut for college and obtained her BS in physiology and neurobiology.  Prior to going to medical school, she conducted clinical research at Memorial Sloan Kettering in NY, NY and lived in Hoboken, NJ.  While city life was thrilling, she put her heels away for some boots and headed to Maine to embark on her dream.  She was accepted to the University of New England for medical school in Biddeford Maine, which is where she met Dr. Matthew Lopresti, our chief hair loss surgeon.  She graduated medical school in 2008 and attended residency at University of Massachusetts Medical Center for Internal Medicine. She opted to further specialize in Hematology-Oncology completing her fellowship at UMASS in 2008.  She remains triple boarded in these specialties.  During that time period she married Dr. Matthew Lopresti and welcomed their first baby Jax Lopresti.
She found her first job taking her to Providence RI to practice academic medicine.  She was excited to join Lifespan Cancer Institute as a hematology oncology attending and an assistant professor of The Warren Alpert Medical School of Brown University in 2008.  She subspecialized in breast and gynecologic-medical oncology caring for multiple women with these malignancies.  She had a special interest in young women's cancers and became the director of the Young Women's Cancer Program and also founded the Young Fight Strong Program (RI) for women under 45 with breast or gynecologic malignancy.  She was the primary investigator of multiple clinical trials in women's cancer and has publications in the field. She is most proud of being the primary investigator of a clinical trial supporting child care for young mothers undergoing chemotherapy; she hopes the data will be pivotal in allowing women compensation for this basic need in the future.
While at Brown, she also took great pride in teaching and was the associate program director of the hematology oncology fellowship program for 6 years.  She mentored young trainees in the outpatient clinic, on the hospital floors and with research projects.  Watching her mentees grow and publish in the field gave her great joy.  Beyond this, she volunteered her free time leading support groups, outings, and educational symposiums for the young women of the cancer practice.
During all these busy years, the Lopresti Family expanded and Caroline Lopresti was born.  Dr. Mary Lopresti remains proud of her academic pursuits in oncology for the last 10 years. She believes her true love of women's medicine stemmed from being a part of her patients' lives.
Despite her devotion to medical oncology, she welcomed a change and the opportunity to join her husband in the family "business".  She hopes to help more women, however this time with hair loss.  She enjoys a challenge and is not afraid at this shift in her career.  She believes this will also give her more time to devote to her young family.
Dr. Lopresti states that watching her Nana battle hair loss first shaped her beliefs in how devastating hair loss can be.  She describes her Nana as having the "puffy bouffant hair" everyone loved growing up and when autoimmune disease stole this from her, she had a hard time coping.  This resulted in needing a wig and a painful experience for her grandmother.  Moreover, Dr. Lopresti observed many of her female cancer patients battle the aftermath of chemotherapy, specifically alopecia.  She saw the effects on body-image and self-esteem.  She thereby supported the use of the cold cap for her patients who were appropriate for hair preservation.  Her patients' experience also shaped her interest in researching hair loss and has fueled her desire to be in the field.  She hopes she can be a face for these women with alopecia and help them regain some of their confidence through female hair loss treatments.
Hobbies and Home Life
When not working towards her goals in the office, Dr. Lopresti can most likely be found honing her craft of pasteling at her easel or planting dahlias all throughout her yard. She and Dr. Matthew Lopresti are "foodies" and love to both cook and frequent restaurants along their travels. She loves to run, read and watch football in her spare time. Most of all she adores her time with her family spent on the beautiful coast of Maine.