How to Spot, Diagnose, and Treat Hair Loss
A small amount of hair loss is a normal occurrence. In fact, the average person loses between 50 and 100 hairs every day. So how can someone tell if more than the normal amount is being shed? Dr. Matthew Lopresti and Dr. Mary Lopresti offer tips on how to identify when hair loss is a problem and provide guidance on how to stop this process. The earlier you begin treatment, the more effective non-surgical treatments can be. Unfortunately, by the time hair loss is noticeable 50 percent of hairs have already fallen from the scalp. Our extensively trained hair restoration surgeons offer the most comprehensive array of hair restoration options available. If you've noticed changes in your hair volume and fullness, we can help you.
How to Detect Hair Loss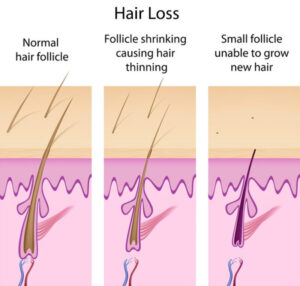 Many people rely on the mirror test—checking for signs of thinning or a receding hairline. But as mentioned above, by this point significant hair follicle miniaturization may have already occurred. One of the best ways to determine if hair loss is progressing is to do a hair count to determine how many hairs you shed each day. Although somewhat tedious, this method can be one of the most accurate in determining whether there's an issue at hand. Check your pillow each morning, look over your comb or brush, and examine the shower drain after bathing (clear these areas each day so you're not accidentally counting multiple days' worth of shedding). If you find that you're routinely losing more than 100 strands a day, it might be time to talk to us. Our physicians use a wide range of tests to determine if hair loss is occurring and identify what might be causing the concern.
Diagnosing the Cause
The most common hair loss cause is genetics. However, there are other types of hair loss that should be considered before you decide upon a treatment. Though very uncommon, if the underlying origin of your issue is something treatable, such as a medical condition, medications, nutrient deficiency, or stress, for instance, addressing these concerns should be considered. If hair thinning is determined to be due to genetics, there's no reason to lose hope. Today's advances have made it possible to halt hair loss and restore hair with natural-looking results.
Choosing an Effective Treatment
The type and severity of hair loss will help determine which treatment or treatments will be most effective in helping you minimize further thinning. At our practice, we often combine non-surgical and surgical techniques to optimize the outcome. In addition to state-of-the-art hair transplant surgery techniques, we offer minimally invasive hair loss treatments like Platelet Rich Plasma (PRP) with ACell® Injection Therapy, Auxo A300™ Laser Device, and medical options such as ROGAINE FOAM® and Propecia®. During your initial complimentary consultation with our surgeons, we will evaluate your concerns, discuss your goals, and develop, together with you, a customized treatment plan tailored to your unique needs and desired outcome. We understand how distressing hair loss can be, for both men and women; we are here to help you find a solution.
For more information on how to detect and treat hair loss, or to schedule a consultation, please contact our practice today.