Follicular Unit Excision (FUE)
At Leonard Hair Transplant Associates, our goal is to provide state-of-the-art treatment delivered with a patient-focused approach. Our extensively trained hair loss surgeons have over three decades of combined experience in effectively slowing hair loss and helping men and women restore their hair. This commitment to modern, compassionate, and dynamic restorative methods allows Dr. Matthew Lopresti and Dr. Mary Lopresti, to stand apart in the field.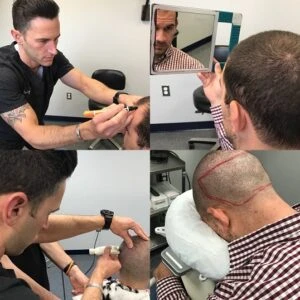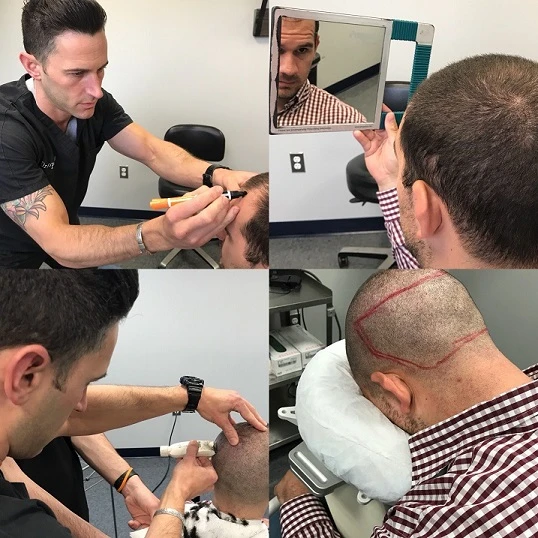 One of the most exciting advances in hair restoration is a technique called follicular unit excision, or FUE. This state-of-the-art approach to treating hair loss, which eliminates the linear scar associated with traditional strip hair transplantation, can offer a faster recovery, and can provide beautiful, natural-looking results. As a result, FUE can be an excellent method of hair restoration for individuals who like to wear their hair clipped short, have relatively small areas of thinning, need corrective hair restoration, or have tighter scalps.
Even if you don't fit within these categories, FUE may be appropriate for you depending on your unique anatomic characteristics and desired outcome. During your initial complimentary consultation, Dr. Matthew Lopresti and Dr. Mary Lopresti will evaluate your needs and discuss your goals to determine which technique can provide optimal results for you.
What Is Follicular Unit Excision (FUE)?
What makes FUE unique is the minimally invasive approach to harvesting hair grafts. In traditional strip hair transplant surgery, a long thin section of hair and tissue is removed from the donor area, which is located on the back and sides of the head. Under magnification, this strip is then separated into smaller grafts that will then be transplanted into the desired region. In FUE, follicular units with about one to four hairs are precisely harvested to be transplanted by our surgeons into the treatment area. By using this advanced technology, Dr. Matthew Lopresti and Dr. Mary Lopresti are able to fill in thinning and balding areas without creating a linear scar. Furthermore, the follicular units are placed in such a way as to achieve the most natural-looking outcome possible.
It's important to underscore that FUE is a surgical procedure, one that requires the skill, training, and artistic eye of experienced hair restoration surgeons like Dr. Matthew Lopresti and Dr. Mary Lopresti. The International Society of Hair Restoration Surgery (ISHRS) recently updated the terminology applied to this procedure to more accurately describe the treatment and to emphasize the need for a physician to perform the operation. While some practices may opt to use technicians for follicular excision (which is the unlicensed practice of medicine), our extensively trained surgeons will always provide this service to ensure the highest-quality results and safest experience possible for our patients. Don't trust anyone who would put your health and outcome at risk by using unqualified personnel!
Learn more about the updated definition and its significance in our press release on follicular unit excision.
What Are the Benefits of FUE?
FUE offers a wide range of benefits that make it one of the best techniques for certain patients. These can include:
Decreased healing time in the donor area
No linear scar in the donor area
Ability to wear your hair as short as you like
Natural-looking results
Precision in harvesting follicular units and artistry in placing them
What Are the Types of FUE?
We are proud to offer some of the most technologically advanced techniques for hair transplant surgery, including two sophisticated systems that utilize FUE. Closely supervised and controlled by our extensively trained hair restoration surgeons, the following procedures can achieve excellent results for the right candidate.
FUE vs. FUT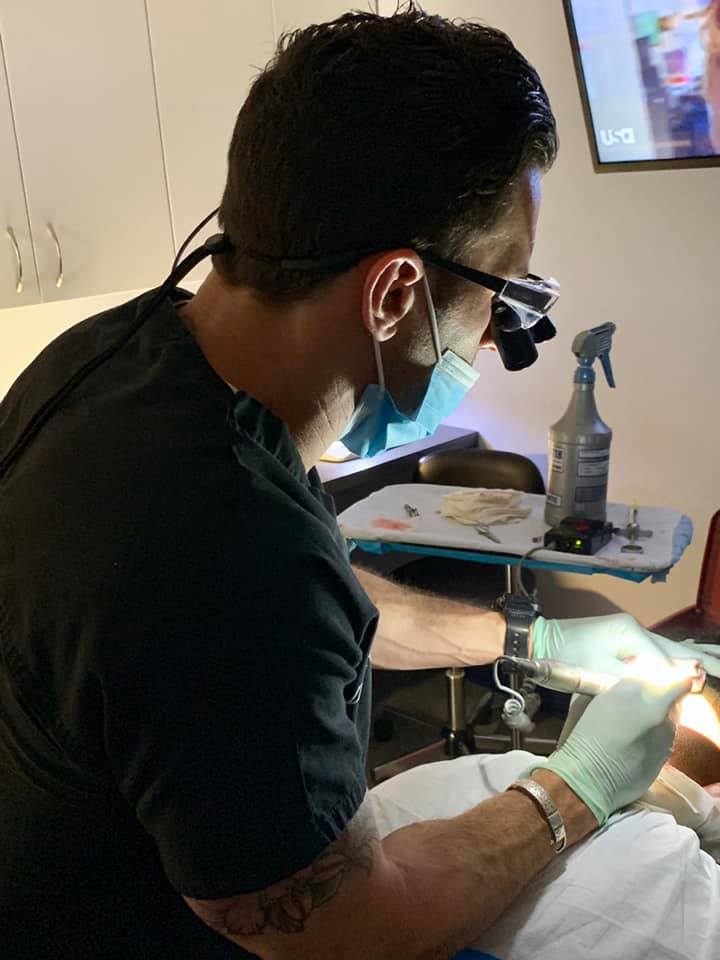 Follicular Unit Excision, or FUE, is a hair transplantation graft harvesting technique that collects follicular units directly from the scalp in a specific manner that individually selects ideal hairs; this "randomized" approach is designed to provide natural-looking results in the donor area as well as in the transplanted zone. Follicular Unit Transplantation, or FUT, is also known as the strip hair transplantation harvesting method. A strip of tissue is taken from the donor area, which is then carefully dissected into the follicular units; they then are individually transplanted into the thinning or bald area. Both techniques have their benefits and drawbacks. Dr. Matthew Lopresti and Dr. Mary Lopresti can help you determine which procedure is ideal for your needs and goals.
What Is FUE Hair Transplant Recovery Like?
Shortly after the procedure you will be able to return home and rest. You will need to follow some simple instructions initially to ensure the best outcome, including instruction on how to sleep, how to protect your skin and scalp from sun damage, and how to wash your hair. Topical and/or oral medication will also be prescribed. Your comfort is a high priority for us, and should you experience any minor pain, over-the-counter medications can be used to alleviate your discomfort. While everyone heals at a unique rate, most patients can return to work and their normal schedule within a few days to a week; however, you must remember that, because the donor areas is trimmed very closely to the scalp, you should be prepared for a short hairstyle in the back for at least two weeks.
Hair takes time to grow, and your patience during this process is essential. We will be here to support your journey at every step. You should begin to see new hair growth in about three or four months, and noticeable aesthetic results are visible after month six. Final transplant results are typically achieved after 18 months, which is new hair you can style in any way you please—it's your own natural, growing hair!
The WAW and Vortex FUE Devices
To help achieve the best possible results, our hair loss surgeons utilize some of the most technologically advanced medical instruments available. These tools allow our surgeons to harvest follicular units of varying sizes to provide the appropriate grafts for each patient's hair restoration needs.
The WAW Device
The WAW motorized pedal, Nouvag motor and hand piece, and hybrid trumpet punches are used to harvest and extract grafts from the patients donor site. This instrument gives our surgeons precise control over the FUE procedure. The WAW devices can be used on virtually all hair types and with a wide range of patients.
The VORTEX
The VORTEX offers a hands-free pedal for excellent control during the extraction process. What makes the VORTEX unique is the depth-control nose on the punch. This makes it possible for our hair restoration surgeons to harvest grafts from the donor site efficiently and effectively.
The purpose of both of these technologies is to provide exceptional results. Each technique and device offers unique benefits, and our hair restoration surgeons can select the optimal approach for your individual characteristics and desired outcome. To learn more about FUE and our state-of-the-art technologies, or to schedule a complimentary consultation, please contact our office today at 800-543-0660.