Patient Results
Before & After Gallery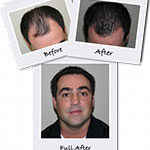 Browse photos of our patients. Learn about their stories, their struggles, and their successes with hair loss treatments. Each patient has different needs, requiring specialized attention, which is why, at Leonard Hair Transplant Associates; we provide personalized treatment options for everyone.
Read More About the Before and After Gallery
Featured Patients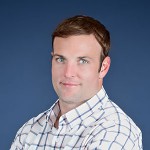 Read dozens of testimonials and view pictures of our patient's journeys to better hair. See what celebrities have turned to Dr. Matthew Lopresti and Dr. Mary Lopresti to perform their hair restoration procedures. We are excited for you to see how natural-looking all of our treatment options are.
Read More About Featured Patients
Success Stories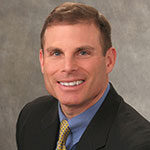 Read the success stories of Dr. Matthew Lopresti's and Dr. Mary Lopresti's patients. Just like you, they wondered if they should take that first step. And, in the end, they were so glad they did. Our goal at Leonard Hair Transplant Associates is to successfully restore each patient's hair, and, in the process, re-establish their self-esteem.
Read More About our Success Stories
Video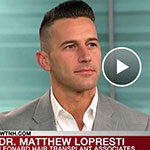 Our surgeons have been caring for men and women who have been suffering through thinning hair since 1986. If you are interested in learning more about our hair loss experts at Leonard Hair Transplant Associates and the full menu of treatment options that we offer, we encourage you to watch our informational videos.