Propecia®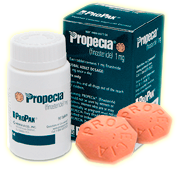 Propecia® is a prescription medication approved by the U.S. Food and Drug Administration for the treatment of male pattern baldness. This non-surgical hair loss treatment works by blocking the formation of dihydrotestosterone (DHT) in the scalp, which allows for hair follicles to fully grow.
In clinical studies, nine out of 10 men saw results with Propecia®. Eighty-three percent of the time, the treatment works to prevent further hair loss, specifically on the crown and the front and central part of the head. Sixty-six percent of the time, Propecia® also works to help replace hair, aiding regrowth of hair on the crown.
Data from recent studies reported that at the end of five years, there were 277 more hairs per 1-inch circle on the heads of men who took Propecia® as compared to men who took a placebo. Almost 300 more hairs for every 1 inch, is A LOT more hair!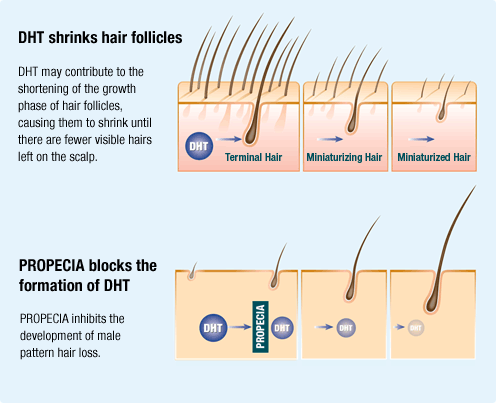 Results with the medication generally take about three months before our patients notice less of their hair falling out, and approximately six months before we start observing hair regrowth.
When we prescribe Propecia® for our patients, our experienced hair restoration doctors instruct them to use the medication for at least 18 months. In our experience as hair transplant surgeons, we feel that it requires at least this amount of time to determine whether or not the treatment has been effective. In some cases, patients who do not see results as soon as they expected, can become discouraged. However, it is our belief that if you stop taking Propecia® before the 18 months, it is not adequate time to see how well it works for you.
Propecia® is taken once a day. It is a pill that can be taken with or without food, and there are no known drug interactions.
Many people show concerns about the side effects that can be associated with this medication. For those who are concerned, however, we emphasize that the side effects observed occurred in a very small number among thousands of men in the studies. The three side effects included a diminished sexual drive, decreased hardness of erection, or a decrease in the volume of semen. These side effects occurred in ½ of 1 percent of men.
Additionally, the good news about such potential side effects is that for individuals who continued to take the medication for several more weeks, 58 percent of patients would return back to normal, as the body adjusts to the drug. Furthermore, 100 percent of patients revert back to normal if they stop the medication, indicating that there are no known long-term side effects to worry about.
We urge patients not to be dissuaded or discouraged by some of the inaccurate statistics. Propecia® is a long-term, hair loss treatment that should continue to be used for its effective results.
Contact Leonard Hair Transplant Associates
If you would like to learn more about whether Propecia® may be a suitable form of treatment for you, or if you would like to schedule a consultation with our skilled hair restoration surgeon, please contact us today.