Low Level Laser Therapy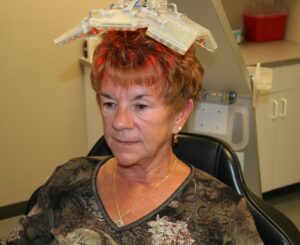 Low Level Laser Therapy is one of the most advanced hair loss treatments available that can help men and women who are suffering from hair loss achieve fuller and thicker hair. Using what's referred to as a "soft" laser, Low Level Laser Therapy works to stabilize further hair loss in up to 90% of patients, and typically stimulates hair re-growth in approximately 50% of male and female patients. Our hair loss doctors, Dr. Matthew Lopresti and Dr. Robert Leonard, offer this state-of-the-art treatment here at Leonard Hair Transplant Associates.
What Is Low Level Laser Therapy?
Originally developed in Central Europe, Low Level Laser Therapy is a non-surgical treatment that applies infrared light therapy to a person's scalp to stimulate his or her hair growth. Unlike other cosmetic and medical lasers, Low Level Laser Therapy is referred to as a "cold" or "soft" laser because of its lack of a thermal component.
Low Level Laser Therapy is also one of the methods that can be used especially for women. In the past, ROGAINE® was among the few medical treatments available to treat female pattern baldness. Now, with today's advancements in technology, Low Level Laser Therapy makes an excellent option for any patient who wishes to restore their hair volume.
Does It Hurt?
No, since Low Level Laser Therapy is non-invasive, patients should not be able to feel any discomfort. Additionally, because Low Level Laser Therapy is a "cold" laser, there is no burning or UV radiation associated with the procedure. One of the great benefits is that patients are able to immediately return to their normal schedule and resume their regular activities.
Am I A Candidate?
Designed for any individual suffering from hair loss, or anyone who may have just started noticing the first signs of hair loss, men and women alike can benefit from this new advancement in hair restoration. For our patients who have undergone a surgical hair restoration procedure, we provide two weeks of Low Level Laser Therapy treatment free of any cost. With several complementary low level therapy sessions, Dr. Lopresti and Dr. Leonard find that it not only aids in the healing process, but helps accelerate the growth of the newly grafted hair.
What Is Treatment Like?
Each session takes about 30 minutes. Patients sit under a light-emitting device and are able to watch movies or read magazines. It's that simple and easy!
We also provide patients with the option of the Capillus272™ device, where you can promote the regrowth of your hair in the comfort and privacy of your own home. Fitted sleekly under a baseball cap, the Capillus272™ is easy and convenient to wear, requiring just half an hour of treatment every other day.
How Does It Work?
Low Level Laser Therapy works by delivering light energy directly to the scalp. This energy promotes cellular metabolism, and increases blood circulation and oxygen supply to the follicles. Around 70% of hairs are then stimulated from the resting phase to the growing phase.
What Are the Results?
Developed to stabilize the progression of hair loss and promote re-growth, Low Level Laser Therapy can make hair healthier and improve its quality and volume. Hair should be fuller, softer, and more manageable.
Low Level Laser Therapy Patient Testimonials
"This synergistic, yet non-surgical approach worked well beyond my highest expectations."
"My hairdresser, even though I didn't tell her that I was using Low Level Laser Therapy, commented that my hair was growing back and looked a lot more thick."
"I can't believe that my hair has stopped falling out. Before meeting Dr. Leonard, I really thought that I was going to have to buy a wig. I thank God everyday that I started my Low Level Laser Therapy treatments."
"I waited 8 years to do anything about my hair loss because I assumed that it was my fate. I was afraid to wash or brush my hair because I thought they would cause more to fall out. Since Dr. Leonard's Low Level Laser Therapy program, I can wash or brush my hair without fear. I'm sorry that I didn't do anything sooner. In fact, I was starting to look for baseball caps! Since my hair loss has stopped, I am much less self-conscious when I'm out of my house."
Contact Leonard Hair Transplant Associates
If you would like to learn more about Low Level Laser Therapy, or if you would like to schedule a consultation with one of our skilled hair restoration surgeons, please contact us today.