New England Hair Restoration Surgeons Reveal Options for Preventing Hair Loss
Dr. Robert Leonard and Dr. Matthew Lopresti combine advanced technologies with proven medical treatments to counteract hair loss.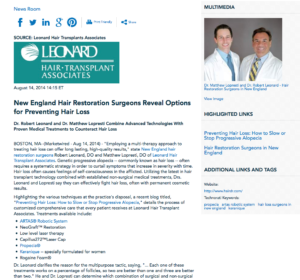 Boston, MA — "Employing a multi-therapy approach to treating hair loss can offer long lasting, high-quality results," state New England hair restoration surgeons Robert Leonard, DO and Matthew Lopresti, DO of Leonard Hair Transplant Associates. Genetic progressive alopecia — commonly known as hair loss — often requires a systematic strategy in order to curtail symptoms that increase in severity with time. Hair loss often causes feelings of self-consciousness in the afflicted. Utilizing the latest in hair transplant technology combined with established non-surgical medical treatments, Drs. Leonard and Lopresti say they can effectively fight hair loss, often with permanent cosmetic results.
Highlighting the various techniques at the practice's disposal, a recent blog titled, "Preventing Hair Loss: How to Slow or Stop Progressive Alopecia," details the process of customized comprehensive care that every patient receives at Leonard Hair Transplant Associates. Treatments available include:
Dr. Leonard clarifies the reason for the multipurpose tactic, saying, "…Each one of these treatments works on a percentage of follicles, so two are better than one and three are better than two." He and Dr. Lopresti can determine which combination of surgical and non-surgical procedures will be most effective in managing each client's case, taking into consideration the patient's goals.
While the majority of people inherit a predisposition for the condition, progressive alopecia can occasionally stem from other sources as well. The qualified team at Leonard Hair Transplant Associates carefully evaluates every patient before initiating treatment. Drs. Leonard and Lopresti offer a progressive, multifaceted program to individuals seeking to treat and/or prevent hair loss.
About Robert Leonard, DO, FISHRS, FAACS
A native of New England, Dr. Leonard completed his undergraduate studies at the University of New Hampshire before obtaining his medical degree at the University of New England. After a residency in Toledo, OH, he attended the Chambers Hair Institute to complete a hair transplant surgery preceptorship. In addition to participating in numerous organizations, including serving as President of the International Society of Hair Restoration Surgery (ISHRS), he is also a Fellow of the American Academy of Cosmetic Surgery, Diplomate of the American Board of Hair Restoration Surgery, and Medical Advisor for Keranique. Dr. Leonard is available for interview upon request.
About Matthew Lopresti, DO
Dr. Lopresti earned his medical degree from the University of New England. He completed his internship in Pennsylvania, a three-year residency at Boston Medical Center followed by a year-long fellowship through Harvard Medical School. He then was personally trained in hair restoration surgery by Dr. Robert Leonard. Dr. Lopresti is available for interview upon request.
For more information about Leonard Hair Transplant Associates and its multi-therapy approach to hair loss, visit hairdr.com and facebook.com/leonardhair.
Contact:
Leonard Hair Transplant Associates
922 Reservoir Ave.
Cranston, Rhode Island 02910
(401) 946-0884
(800) 543-0660
Rosemont Media
[email protected]
(858) 200-0044
www.rosemontmedia.com