Who Has the Best Hair Among the Democratic Candidates for President?
From George Washington, to John F. Kennedy, to Bill Clinton, United States Presidents have a history of having distinguished hair
NEWTON, MA (October 13, 2015) –  Dr. Robert Leonard, a nationally-recognized expert in the field of hair restoration, offers his educated thoughts on the hair of the current male Democrat candidates for President.  According to Dr. Leonard, Male Pattern Baldness, or Androgenetic Alopecia, affects 50% of all men.  It is a condition that is inherited, not a choice.  It also is a progressive condition which will get worse if it is not treated.  The degree of baldness a man will have and the timetable of its progression cannot be predetermined. Note: Dr. Leonard has not personally treated any of the candidates that he is commenting on.
•    BERNIE SANDERS: Senator Sanders has very typical androgenetic alopecia identified by baldness in the front and on the top of his head along with thinning in the crown.  He would definitely benefit from hair transplantation coupled with medical therapies.
•    MARTIN O'MALLEY: Governor O'Malley appears to have a good head of hair.  He styles it from left to right, which conceals his hairline.  In a couple of the images I have reviewed when his hair has been blown back, there are some signs he may have had hair transplantation, but it is difficult to assess simply by looking at photos.  Also, hair restoration surgical results today are virtually undetectable–a testament to the greatly refined contemporary surgical techniques now available.
•    LINCOLN CHAFFEE: Governor Chaffee has a significant receded hairline in addition to thinning in the frontal third of his head. He, too, would benefit from the full menu of hair loss solutions described below.
•    JIM WEBB: Senator Webb looks to have a good head of hair.  Medical therapies to slow progression would be warranted.  Some images show his hair toward the front of his head to be much thicker than in others, which could be from his use of a hairpiece; however, it is difficult to assess this possibility without an in-person exam.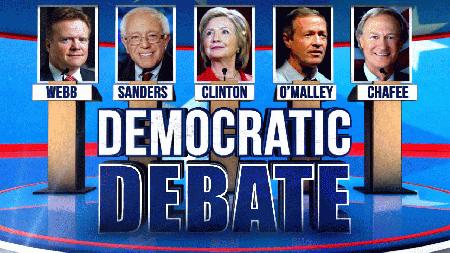 Statistics for male pattern baldness are holding strong with at least 50% of the Democrat candidates displaying features of androgenetic alopecia.  It is important for anyone with signs of hair loss to treat it early to slow its eventual progression.  We have very effective treatments–both medical and surgical–to treat this very common condition.  Seek out the advice of a competent experienced hair restoration surgeon as a next step in treating hair loss.
There are wonderful FDA-approved and FDA-cleared therapies that are very effective in both slowing down the expected progression of hair loss as well as re-growing hair that had been lost.  These are:
•    Propecia, which is the only oral medication to treat male pattern baldness
•    Capillus272, which is a home-use device using low level laser therapy
•    Rogaine Foam, which is the only topical treatment for this condition
Using more than one of these at one time is better than using individual treatments.
Hair Transplantation or Hair Restoration Surgery is the only permanent treatment to restore one's own growing hair to areas that have become thin or bald.  Transplanted follicles from the back of the head are surgically moved to the problem areas.  After three to four months from the transplant date, these follicles will produce a new hair that will grow at a rate of approximately one-half inch per month forever thereafter. So, after the sixth month, cosmetically-significant growth will be evident; however, it takes a full 18 months to see the final result.
Treating both medically to stabilize progression and with hair restoration surgery is the ideal prescription for most men losing their hair.
About Leonard Hair Transplant Associates:
Leonard Hair Transplant Associates offers the latest technology in hair restoration surgery and medical treatments, customized to meet individual patient hair loss needs, including ARTAS® Robotic System, Traditional Hair Transplantation, NeoGraft™ Automated FUE Hair Transplantation, Capillus272 Laser Device, and Propecia®. With offices in Cranston, Rhode Island; Boston, Worcester, Hyannis, Braintree, and Newton Center, Massachusetts; and Salem, New Hampshire, Leonard Hair Transplant Associates is dedicated to providing an honest, realistic medical evaluation of each individual's hair loss problem. For more information, visit www.hairdr.com.