Dr. Robert Leonard Honored by Local Magazine
Recently I was honored by the readers of ShopInRI.Com as the Medical Director of the Most Prestigious Hair Restoration Practice in Rhode Island.  In my acceptance presentation, I described that I was a "transplanted" Rhode Islander who was dragged kicking and screaming down Route 95 in 1988 from Massachusetts by my Rhode Islander wife. And…I have loved living here ever since!
Initially the practice opened in April of 1989 as Chambers Hair Institute of Rhode Island.  We changed the name to Leonard Hair Transplant Associates (LHTA) in 1991 and moved to our current location on Reservoir Avenue in Cranston.  Shortly after that we opened our first office in Massachusetts.  LHTA has expanded from there to a total of five offices in Massachusetts along with one in New Hampshire.
From the beginning, I did what I thought was right, which was treating patients with respect and offering them the very best care—both medical and surgical—that I could possibly provide.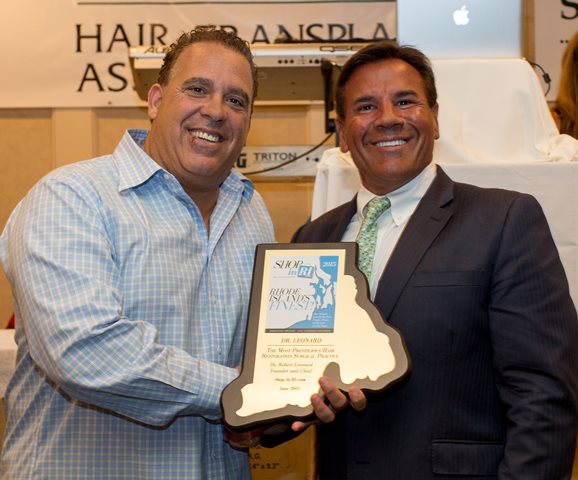 I was one of the very first physicians to advertise my services, which was a double edged sword, because New Englanders were not used to a credible medical professional advertising in a magazine or on TV or on radio (we didn't have the Internet in those days)!
To this very day, I need to advertise because most men are extremely private about their hair restoration. I have thousands of very happy and hairy patients, but the vast majority do not tell anyone that they had their hair restored…
About three years ago, I made a major investment in the practice by training a young physician who had been a medical student learning from me nine years ago, Dr. Matthew Lopresti.  He has allowed me to expand further, but more importantly, to take some well-deserved time away from the office—while still providing our patients with excellent care.
Most importantly, I want to thank my wife and children for allowing me to be away from them to build Leonard Hair Transplant Associates and my parents and in-laws who helped us out in so many ways during the last quarter of a century.
Thank you to my team at Leonard Hair Transplant Associates and to my friends and business associates as well.
And lastly, I want to thank my patients over the last 25 years for giving me their trust to take care of their needs in this unique field of cosmetic surgery.
Dr. Robert Leonard
Founder and Chief Surgeon of Leonard Hair Transplant Associates