Leonard Hair Transplant Associates Celebrates 25 Years in a Big Way

When I founded Leonard Hair Transplant Associates (LHTA) in Providence, Rhode Island, in April of 1989, I knew that I would be helping a lot of people for a long time with their hair loss issues. However, I didn't dream that my unique practice of hair restoration surgery would grow to the extent it has to become one of the most respected practices in the country. I am proud and humbled by its longevity and success. Twenty-five years is a long time!
I owe this success to my wife, Dr. Kathryne Leonard, and to both sets of our parents and to our children and to the many members of my team at LHTA. We have grown from a single location to serving our patients in seven offices throughout New England.
I trained Dr. Matthew Lopresti who has been on board at LHTA to further grow the practice and to give me some much needed time off! Through the years I have forged partnerships with attorneys, accountants, public relations professionals and vendors, which has been a terrific learning experience for me since doctors do not learn much about business issues in medical school!
Most importantly, though, have been the mutually respectful relationships I have with my patients who offer such great satisfaction and interest for me. I am, indeed, a very fortunate physician to have such wonderful patients!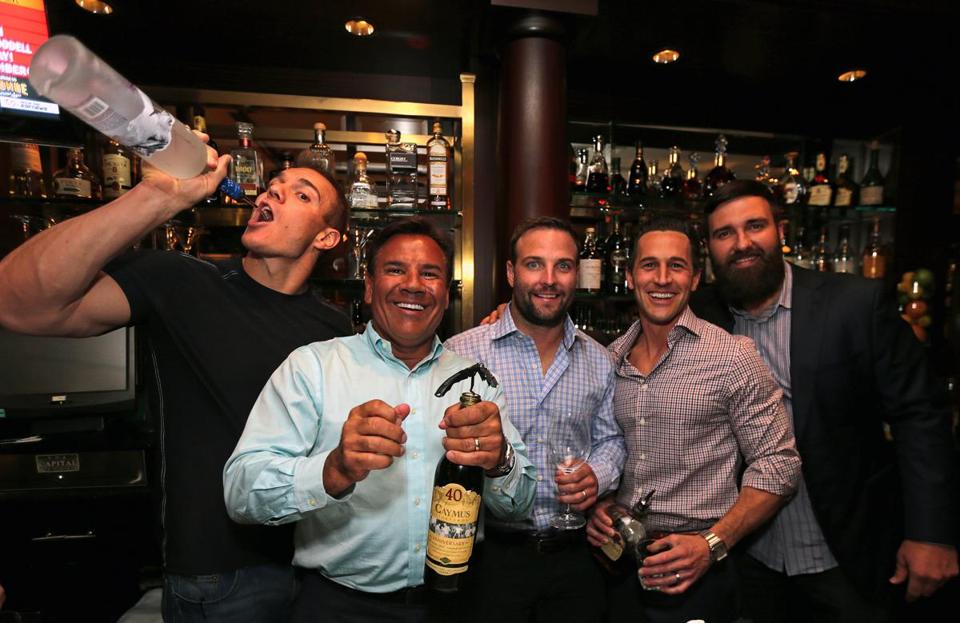 Recently, we celebrated this milestone by holding a Celebrity Bartending Event at the Capital Grille restaurant in Chestnut Hill, MA, featuring patients, family, friends and business associates. The celebrity bartenders included hair restoration patients Wes Welker, Chris Gronkowski, Rob Ninkovich, Lyndon Byers, Mike Adams, Fred Toucher and Tom Curran along with Dr. Matthew Lopresti and me. I would like to thank all involved who made the night a great success. Thank God I have a day job!
I made a donation to the American Heart Association in honor of LHTA's anniversary along with honoring Rhode Island Hospital's Dr. Arun Singh and his cardiothoracic surgical team along with all of the professionals in the hospital's CTICU who literally saved the life of my mother, Marsha, who has volunteered at LHTA for many years.
I can't wait for the next milestone to sponsor a similar event in the future; no, I won't, however, wait another 25 years to have it…
Dr. Robert Leonard
Founder and Chief Surgeon