6 Easy Steps to Apply Rogaine

Our patients ask us all the time if there is an over-the-counter product that will actually treat hair loss. The first thing we recommend is Rogaine Foam, which is FDA approved for hair loss. Rogaine Foam fits easily into your grooming routine and it is as simple and quick as brushing your teeth. The best way to see results is to stick with it and apply it properly twice a day, every day.
People think things like a healthy diet, hair vitamins, hair thickening shampoos and conditioners work. Some brands advertise the benefits of using a DHT-inhibiting shampoo to prevent hair loss: These are simply not effective. Shampoo will not penetrate the scalp enough to stimulate capillaries. They may help to improve hair health or make hair temporarily appear thicker, but they will not stop hair loss or regrow hair.
After using Rogaine Foam for a full year, approximately 50-70% of patients may stabilize hair loss, and 50% of people will see increased density. Remember that once you start hair loss treatments, including Rogaine, they need to be used for the long term.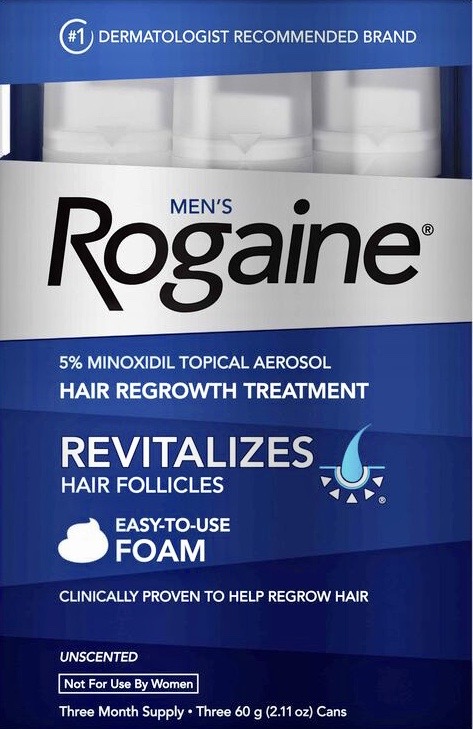 Applying Rogaine Foam is easy!
Start with dry or towel-dried hair.
Part your hair in a few rows to maximize scalp exposure.
Hold the can straight upside down to dispense a half a cap full of foam on to your fingers.
Use your fingers to gently massage the foam directly onto your scalp where your hair is thinning.
Wash your hands after applying.
As the foam penetrates the skin, it revitalizes hair follicles that have become dormant. Let the foam absorb into your scalp and dry completely before blow drying or styling your hair.
Remember you won't see results tomorrow! Most patients see results after four months of twice-daily use, and it needs to be used for at least a year to see the optimal outcome. You have to be patient and committed even after you start to see results, and the results will speak for themselves.
The scariest part of hair loss is that, by the time you realize your hair is thinning, you will have already lost 50% of your hair. When you realize that you are losing hair, you need to act fast, as early recognition and treatment are critical. 98% of all hair loss in men and women is hereditary. Temporary hair loss can be caused by pregnancy, thyroid conditions, crash diets and certain medications. Unlike with hereditary hair loss, it is strictly temporary and the hair typically grows back on its own.
Rogaine is the only topical brand FDA approved to treat hair loss. Men's Rogaine Foam with 5% minoxodil is used twice a day and is quick and easy to apply. Then you can style your hair as you always do.If for any reason you feel that Rogaine Foam is not right for you, we also offer Platelet Rich Plasma with ACell Therapy(PRP), The Auzo A300 Laser Device and Propecia to treat hair loss.
To learn more about Rogaine Foam and other non-surgical hair loss treatments please contact our office to schedule an appointment.