A Woman's Hair is Her Crowning Glory

Women regularly go to great lengths to ensure they look fabulous.  From eccentric skin treatments to a collection of beauty products – a woman's beauty regimen is top priority.  As we all have heard, a woman's hair is her crowning glory.  But, did you know that 30 million women in the United States suffer from hair loss?
We usually associate hair loss and hair transplants with men but, a large female population struggles with this condition every day.  What women may not be aware of, however, is that hair restoration surgery may be a great permanent solution to restoring their thinning hair.
"Women can be great candidates for hair transplant procedures," said Dr. Leonard.  "22% of my patients are female, more than the industry average, and they truly once again feel feminine and more confident when they are able to restore the image they once had before their thinning hair challenges."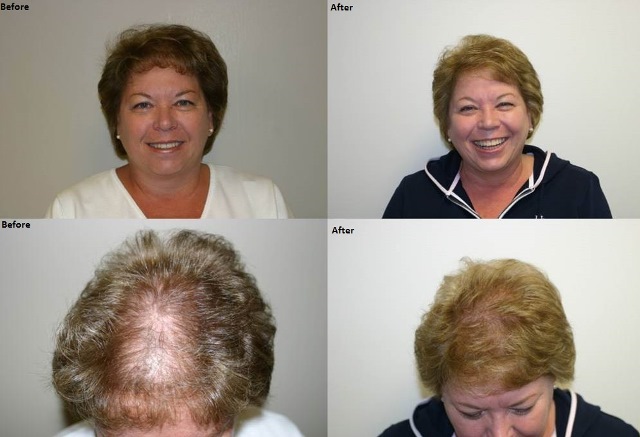 Patricia Branca from Medfield, Massachusetts is a Leonard Hair Transplant Associates patient who always tells people, "it's the best thing I have ever done."  One day, when Patricia was sitting behind a group of elder women in church, she realized their hair was so thin you could see their scalp.  This made her take a serious look at her own hair.  Patricia had previously noticed some thinning at the top of her head; she felt that if she didn't take action that she would "be bald by 60." The notion of this was unacceptable to her.
Pat's first step, which is common for many people who first recognize their hair loss, was to spend a small  fortune on at-home "treatments" and products to mask the problem.  They didn't  work, so she decided to seek out  medical experts for their recommendations to treat her situation.  First was an endocrinologist, followed by a hair restoration clinic where she felt uncomfortable.  Ultimately, Patricia visited Dr. Leonard and her outlook changed; finally, she felt that her problem could be fixed.
"Dr. Leonard made me feel comfortable; he is terrific," said Patricia.  He performed a hair transplant to the thinning area on the top of her head.  According to Patricia, the procedure was painless and she laughed the entire time.  Today, Pat's hair is looking great.  She treats it just like the hair she used to have–because it is!  She cuts it, colors it, and styles it now that she has it back again.
"Patricia is an amazing patient and person," said Dr. Leonard "she took matters into her own hands in treating her hair loss.   What is especially wonderful about Patricia is that she publicly encourages women to explore hair restoration solutions. "Women look to other women for guidance, especially with beauty and image solutions- it's time for them to embrace hair restoration."
If you or someone you know if suffering from hair loss like Patricia, please contact Leonard Hair Transplant Associates to schedule a free, confidential consultation to explore your options. Call 1-800-543-0660 or visit www.hairdr.com.