Ben From Boston's Sensational Before and After Hair Transplant Photos

Patients of Leonard Hair Transplant Associates come from all walks of life. After all, hair loss does not discriminate. The pressure to maintain a youthful and professional appearance extends much further than in a boardroom or on the field at Gillette.  LHTA patient Ben Scaralia is a high school science teacher, who, like countless other patients, says he always felt that people were looking at his hair, noticing his thinning, regression and bald spots.
Ben first starting noticing his hair loss in college. It started with thinning, but progressed to bald spots. Ben would spend hours in the morning and throughout the day styling his hair to make sure everything was in place perfectly to hide those spots. "Whenever I was in public, no matter where I went, I felt like people were looking at me. I was fixated on it," he said. Ben started wearing hats to feel more comfortable, but that was not always an option, especially in the classroom.
At 26, Ben reached his breaking point and made the decision to do something. His girlfriend at the time would make light of his hair loss, not in a mean way, but enough to spur Ben to take action. Not knowing much about what could be done or how to do it, he contacted Leonard Hair Transplant Associates after hearing ads on the radio. "I had no idea what to do, so I just called and made the appointment, and I am glad I did," Ben said.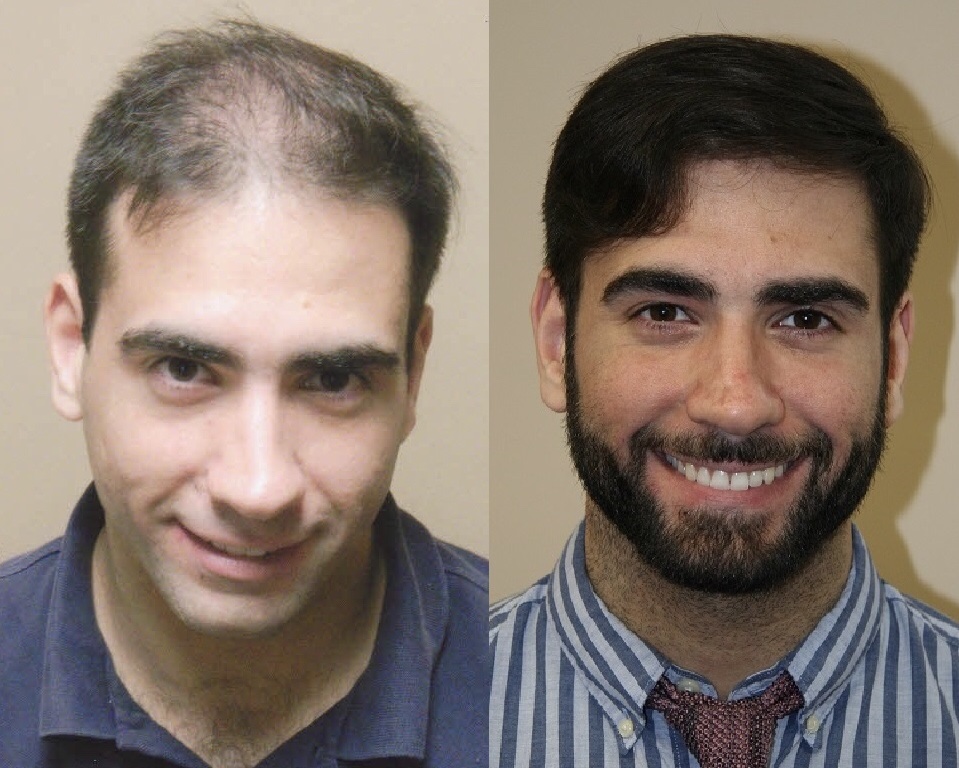 "Many patients do not know about the tremendous variety of options to treat their hair loss," said Dr. Matthew Lopresti, Chief Surgeon at LHTA. "But, I encourage anyone who shares Ben's feelings to give us a call. The consultation is free and potential patients will get all the information they need to make an informed decision about their future."
"I'll admit, I was skeptical," Ben said. "But, I was very wrong." Ben said Drs. Lopresti and Robert Leonard were open and honest about treatment options and very informative in the initial consult. "They didn't sell me. I didn't feel nervous or forced into anything. But, I did feel informed and reassured."
"We noticed Ben had moderate thinning in the central front area and on the top of his head," said Dr. Leonard. "He underwent a traditional strip hair transplant in September of 2014."
"The results have been amazing," Ben said. About a year after his procedure, he began a regimen of Rogaine and Propecia in addition to using the Low Level Laser Cap. "Three years later, my hair is so much thicker. I look back at pictures and I don't even recognize myself," Ben said.
Ben said he no longer has to worry about going out in public, even when it rains! Ben said it also gave him a confidence boost in his personal and professional life. "I went out and bought new clothes; after my surgery I looked at myself in a whole different way."
If you are like Ben and have questions about you hair, call Leonard Hair Transplant Associates at 1-800-543-0660. The initial consultation is free and will answer your questions.
Drs. Matthew Lopresti and Robert Leonard
Leonard Hair Transplant Associates