Dr. Mary Lopresti Joins Leonard Hair Transplant Associates

Leonard Hair Transplant Associates proudly announces that Dr. Mary Lopresti, DO has joined our staff as a hair restoration surgeon. Dr. Lopresti is currently training under Chief Surgeon Dr. Matthew Lopresti and will begin seeing patients in our Newton, Massachusetts office.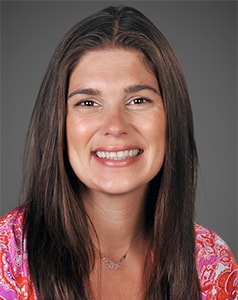 "We are so fortunate to have Dr. Mary Lopresti join the practice, bringing with her a wealth of experience as a hematology-oncology attending physician and assistant professor at Brown University's Warren Alpert Medical School," said Dr. Matthew Lopresti. "Her extensive experience in medicine and her caring approach to patients make her a wonderful addition to our team and I'm excited for our patients to meet her.
While Dr. Mary Lopresti's medical career did not originate in the field of hair restoration, there was an ongoing tie to hair loss throughout her career in hematology-oncology. "My oncology practice, comprised primarily of women faced with tough cancer diagnoses of the breast and gynecologic tract, forever has shaped my way of approaching patients. The experience taught me how to be a good listener, problem solver, and communicator. I hope to give the same care and compassion to those suffering from hair loss, alopecia and resultant negative body image."
Dr. Mary Lopresti truly understands how hair loss can profoundly affect self-esteem. Prior to entering into medicine, she watched a beloved family member affected by alopecia struggle with her self-image. "I watched my nana suffer the emotional impact of having alopecia and how it not only impacted her image of herself, but how it also affected the choices she made and the activities she participated in. The toll it took on her truly underlined how important hair is to self-perception."
Dr. Mary Lopresti earned her Doctor of Osteopathic Medicine (DO) status from the University of New England in 2008 and attended residency and completed her fellowship at the University of Massachusetts Medical Center for Internal Medicine. Her professional career began at the Lifespan Career Institute in Providence, RI where she was a hematology-oncology attending physician. She was an assistant professor at Brown University's Warren Alpert Medical School and was the associate program director of Brown's hematology-oncology fellowship program for six years.
While at Lifespan, Dr. Mary Lopresti subspecialized in breast and gynecologic-medical oncology and later became the director of the Young Women's Cancer Program. She founded the Young Fight Strong Program (RI) for women under 45 with breast or gynecologic malignancy and was the primary investigator of multiple clinical trials in women's cancer and has publications in the field. She also volunteered her time leading support groups, outings, and educational symposiums for the young women of the cancer practice which provides her with a wealth of experience in dealing with women facing loss, difficult medical circumstances and resulting hair-loss due to chemotherapy and other treatments.
"Given my experience in women's medicine, I hope I can attract more women to the practice and provide a safe space for women to feel comfortable tackling this sensitive issue. I hope to meet many women who have hair thinning or loss due to menopause or due to cancer therapies as well."
In fact, one of Dr. Mary Lopresti's goals is to strengthen the practice's services for women with a long-term goal of adding a women's annex concentrating on high-priority needs. In the immediate future however, she looks forward to working day-to-day with Dr. Matthew Lopresti, incorporating the latest advances into the practice and most of all, to embrace this next adventure.