Hair Restoration: What Makes the ARTAS® System Different?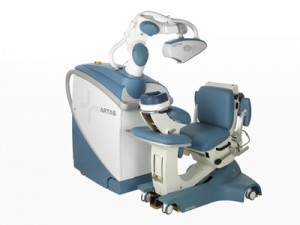 If you are among the millions of people, both men and women, in the U.S. experiencing hair loss, you might be wondering what hair restoration options are available, and which methods may work best for you. Offering the latest technical device in the field of hair restoration, Dr. Robert Leonard explains how the ARTAS® Robotic System provides patients with a newer technique to harvest hairs that can result in superior transplant results.
"There are two methods of harvesting," says our experienced hair restoration surgeon. "One is called the traditional, or strip harvest, where I actually remove a strip of skin that contains [many] follicular units, which are groupings of hairs. Under magnification, they are dissected out and individual grafts are created from a strip. At the end of that procedure, the area removed is sutured together and it heals in a line. Typically, it's a fine line about the width of a pencil line in the back of the head, and if a person's hair is long enough, it's able to cover that line forever."
If you like to wear your very hair short, or shaved closely to your head, Dr. Leonard says that a more newly developed method, called follicular unit excision, or FUE technique, may better serve your goals. "When we use the ARTAS® technique, it's really the most high-tech and sophisticated tool that I have available to harvest follicular units," he says. "These grafts are as small as .7mm – 1mm. They're very, very tiny so when they're extracted from the back of the head, tiny little holes are left, which heal into even tinier little spots that are completely hidden even if a person has very short hair."
Additional advanced features of the ARTAS® Robotic System include:
high-resolution digital visualization
precision robotics
minimally invasive execution (no scalpel, sutures, or staples)
minimized recovery
Dr. Leonard understands the physical and emotional stress that hair loss can cause. Along with his decades of hair restoration expertise, Dr. Leonard invests in the latest technologies in order to provide patients with proven solutions and effective treatments. The ARTAS® technique is among many procedures available at Leonard Hair Transplant Associates that has helped individuals improve the effects of hair loss and feel better about the way they look.
Contact Us
If you would like more information regarding hair restoration solutions, or to schedule a free consultation, please contact us today.