New England Defensive End Rob Ninkovich Tackles Hair Loss
Defensive End Rob Ninkovich is one of the most important – yet underrated – pieces on the New England defense.  Known for his versatility and big-play making ability, Rob has become a New England fan favorite.  Hard-hitting tackles come naturally to Ninkovich, but when it came to tackling his hair loss, he knew he couldn't do it alone.
"I first started to notice my thinning hair when I was in my early twenties," shared Ninkovich.   Over the years Rob's hair continued to slowly thin.  But, it wasn't until he saw fellow teammate Wes Welker's hair-transplantation results from Dr. Leonard, that he scheduled a consultation.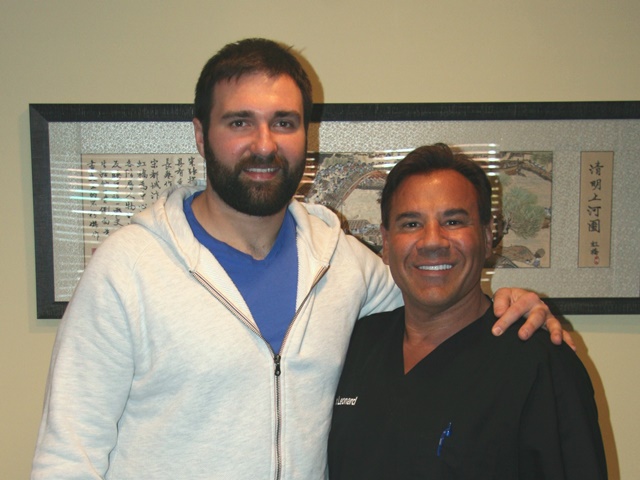 "I am happy that Rob chose to treat his hair loss early on," said Dr. Leonard .  "Like the majority of young men experiencing hair loss, Rob's male pattern baldness is a genetically inherited condition.  He has a history of hair loss in both sides of his family and always knew that someday it could happen to him."
Meeting Dr. Leonard in Newton, Massachusetts for the first time was a very comforting experience for Rob, making him confident with his decision to do something about his hair loss. "When talking to a doctor, you need someone who is going to be able to relay information in a way that doesn't make you nervous," commented Ninkovich. "Dr. Leonard has a great personality and incredible knowledge, and I knew right away he was going to be the right doctor for me."
Rob will be working with Leonard Hair Transplant Associates in educating the public about the importance of treating hair loss early on when it is first recognized.  Over 50 million men in the United States suffer from hair loss and it only becomes noticeable when approximately 50% of a person's hair has already fallen out.
"If you are experiencing hair loss, I would recommend seeing Dr. Leonard," added Ninkovich.  "Stopping further progression is incredibly important, and that's why I called Dr. Leonard."  Click here to contact Leonard Hair Transplant Associates and schedule your free consultation or call 800-543-0660.