Wes Welker Returns to New England
I am very happy to welcome Wes Welker back to New England for the first time since he moved out West!
Wes underwent his hair transplant with my team and me using the traditional harvest technique in July of last year. The last time I examined him was just before Christmas when his newly transplanted hair was just beginning to become evident. The most difficult time for all transplant patients is not surgery day, but instead, it is the first six months following their transplant day. This is because it takes that long for the transplanted hairs to grow long enough and full enough for them to be easily visible.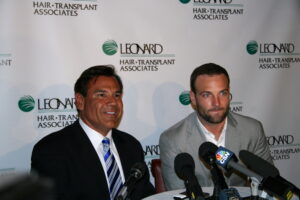 A few weeks ago, Wes texted me indicating that his hair looked great—and, it really does!
More importantly, though, Wes has provided a great and unselfish service to all men and women who are not adequately informed about what modern surgical hair restoration can do for those with hair loss. Additionally, his openness in revealing that he underwent hair restoration surgery with me helps to bring the oft times perceived stigma of having this cosmetic procedure "out of the closet". I have had many patients who have commented to me that "since Wes Welker is open about it, then why should I be concerned about restoring my hair?"
I am proud to have All Pro NFL Wide Receiver Wes Welker working with me in educating the public about what we at Leonard Hair Transplant Associates can do to evaluate and treat hair loss. Wes' good natured personality, unblemished reputation both on and off the field, and his sincerity in what he believes has been a wonderful union with Leonard Hair Transplant Associates. I wish him good health and all the success in the world with his personal life and his career.
Doc