Jason Alexander Admits to Wearing a Hairpiece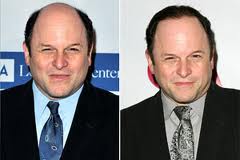 Jason Alexander, of Seinfeld fame and fortune, recently admitted to wearing a hairpiece.
I am often asked by patients why Hollywood's famous men who are bald have not undergone hair restoration surgery.  They relate to me that because today's transplant techniques are so very natural-looking, it seems to them that all actors would prefer to have their own growing hair again rather than wearing artificial hair.
I have to agree with them.
One reason, I believe, that some actors do not treat their hair loss using hair transplantation is that they are so successful in how they currently appear, that they may not want to "mess with success", therefore, they stay bald.  Examples of these leading men may be Sean Connery, Ed Harris, Bruce Willis, Danny DeVito, and Jason Statham.
Another reason could be that they have inadequate donor density, which can only be determined on physical examination.  Additionally, given that male pattern baldness is a progressive condition, some may believe that they would not have enough donor supply to keep up with future hair loss.  Such were the cases with the late Frank Sinatra and Burt Reynolds, who wore hair pieces for many years.
Like Alexander, other Hollywood and international actors such as Liam Neelson, Robin Williams, John Travolta, Ben Affleck, and the late John Wayne are purported to be wearing hairpieces.
Hair restoration surgery is, indeed, the premier solution to hair loss in that the follicles that I transplant from the back and sides of one's head will grow where they are planted with the same long-term growth characteristics they had in the back.  This is called donor dominance and is the medical reason why hair transplantation is so successful and long lasting as a natural treatment for hair loss.
Hollywood stars such as Brendan Frasier, Jude Law, Matthew McConaughey, Steven Segal, Mel Gibson, Edward Norton, Kevin Costner, Arnold Schwarzenegger, and Tom Hanks (among many others) are those who have said to have undergone hair restoration surgery.
Regular guys like you and me have the same choices as these celebrities have in deciding which method to have to restore our hair.  My vote (and bias of course) is to go with what is natural—hair transplantation!
Doc