Jon Bon Jovi struggles to believe he's nearing 50
The Living On A Prayer hitmaker, 47, regularly treats his receding hairline so he doesn't end up bald and often laments on what will happen to Bon Jovi  as he ages.  And the star admits he's unsure whether he will continue with his career in to his 60s, like Rolling Stones rocker Mick Jagger.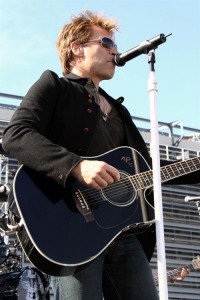 He tells Germany's Reader's Digest magazine, "Let me tell you, I am so worried. I look at guys like Sting and think, 'Well, he's cool about losing his hair,' but I'm already losing a bit and I'm so aware of it. Someone told me that you have to regularly massage your scalp so I do that all the time. You look like a jerk but it's got to be worth a shot. "I find it hard to believe I'm 47 already, because I still feel like 18. I don't plan on being the next Mick Jagger and to keep on going till my late 60s. But at the moment I don't see a reason why I should stop".
Singer Jon Bon Jovi, like millions of other men and women, do not want to lose their hair; however, massaging one's scalp does not keep it from falling out.
Male and female pattern hair loss are genetic conditions that affect over 80 million American men and women. And there are almost as many myths that are out there as supposed reasons for hair loss.
For centuries, machines were sold along with the proverbial "snake oils" that were touted to re-grow hair.  Some of these massagers, if fact, were quite elaborate and awkward to use.  Similarly, I am asked at times if inversion (hanging upside down) is helpful to treat hair loss.  The answer also is a resounding "no"!
The individual, or preferably, combined use of Rogaine Foam, Laser Therapy, and Propecia (for men) and the first two for women, are the proven treatments to both slow hair loss rate and to re-grow hair.  Go with what is successful and scientific and don't waste time, money, and emotional energy on things that will not work!
I welcome Mr. Bon Jovi to visit for his free consultation at any time!
Doc