The Relationship Between Healthy Hair and Personal Diet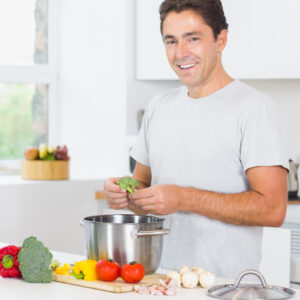 Hair loss occurs in everyone and it's usually perfectly normal. Most people lose between 50 and 100 strands of hair each day as a natural part of the growth process. If you're experiencing more significant hair loss, a number of factors could be involved, from genetics to diet. Our extensively trained hair restoration surgeons can help minimize hair loss and restore hair using the latest surgical and non-surgical treatments. If the cause is treatable, however, that's the first place to begin.
The most common cause of hair loss is genetics. But stress, medications, medical conditions, and diet can all play a role. Hair is made up primarily of protein, so if you're not getting enough of it in your food, your hair could appear dull, eventually becoming weak and brittle or falling out. Other nutrients are also essential to hair quality, including iron and zinc. For this reason, individuals with anemia may find that their hair lacks shine, elasticity, and strength. Adding these nutrients to your diet (think fish, nuts, eggs, beans, and brightly-colored fruits and vegetables) or supplementing with vitamins can help address these concerns and lead to fuller, healthier hair.
For more tips on how to achieve healthier hair and maintain your hairline, talk to our skilled medical team today.