Behind the Mask – Get to Know Chief Surgeon Dr. Matthew Lopresti

By now, our loyal patients and friends are very familiar with Dr. Matthew Lopresti , who is celebrating his 5th year with the practice in 2018. Due to his recent promotion to Chief Surgeon, we'd like to dedicate this special version of hairlines to re-introducing Dr. Lopresti, and perhaps let you all know a bit more about him.
Dr. Lopresti really feels that hair is one of the most important and defining features of a person. It's one of the first things people notice when they see someone and as such, he firmly believes that it's important to take care of-and most importantly-to preserve. That's why he started using Rogaine and Propecia at age 25. This was long before he knew he would become a hair transplant surgeon.  He also began to use a Low Level laser device in 2015. What he did know is that his father was bald and many members of his family were also going that same route, so when he started to notice some thinning, he took immediate action. He is now 38, and you can tell by his patented spikes, it works!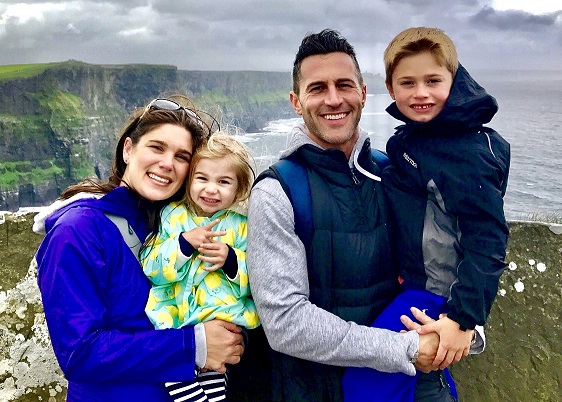 Dr. Lopresti first met Dr. Leonard 12 years ago when he was a medical student at the University of New England in Biddeford, Maine. While a student, he trained with Dr. Leonard for several weeks and they kept in touch over the years, becoming friends. When Dr. Leonard decided it was time to bring on another surgeon, Dr. Lopresti joined the practice.
Now, he is honored to continue the legacy Dr. Leonard built, which is based on excellence in patient care and on offering a variety of effective treatment options. Dr. Lopresti views hair transplantation as an art form, and takes an immense amount of pride in caring for his patients.  Said Dr. Lopresti, "I love medicine and I love what I do; each patient situation is not always black and white so this allows me to use artistry in how I approach and treat each individual. There are, of course, specific aspects of hair transplantation that are consistent since the anatomy and physiology of hair does not change. However, every patient is uniquely different as to the shape of face, hair texture and size of scalp.   These individual differences, and how we treat them, are where the artistic aspects of hair transplant surgery take form. At Leonard Hair Transplant Associates, we have the flexibility to address individual patient needs, the artistry that will give each patient the best possible result for his or her specific needs, and the experience to ensure that each patient receives the highest level of service."
Dr. Lopresti has made his mark as an expert in the Follicular Unit Excision (FUE) transplantation technique. With FUE, follicular units, composed of between one and four hairs, are precisely harvested and transplanted into the treatment area. While FUE can be done by a machine, Dr. Lopresti prefers the manual technique. "I prefer the human touch. Through touch, I can sense the density of the skin, texture of the hair, as well as choose which hair follicles to harvest. By using this advanced technology, I'm able to fill in thinning and balding areas without creating a linear scar. Furthermore, the follicular units are placed in a way that creates the most natural-looking outcome possible. The FUE technique allows me to harvest grafts from the donor site efficiently and effectively. Our patients benefit from a nonlinear donor scar, reduced healing and downtime, and natural-looking results." he said.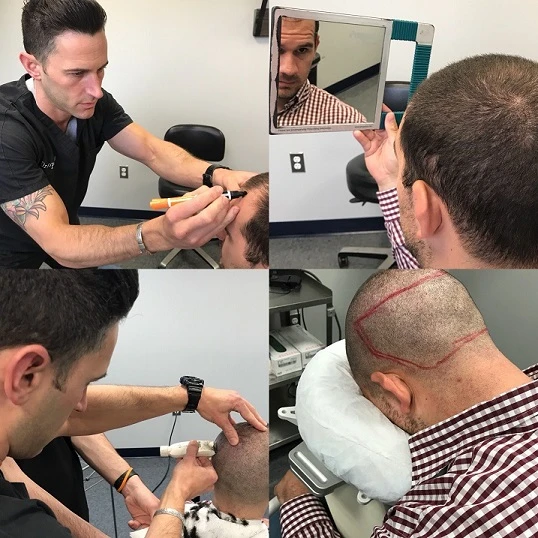 When you meet Dr. Lopresti in person, you may notice two physical characteristics: he is in tremendous physical shape, and he likes tattoos! Much like having good hair, Dr. Lopresti believes that including physical fitness into his everyday routine is an important aspect of his lifestyle. Employing positive practices like working out and enjoying a healthy diet are empowering and build confidence. He says it's a choice, like making the decision to seek hair loss treatment. And the confidence boost both provides and improves one's overall well being and reduces stress. "Having a hair transplant often motivates our patients to change their wardrobe, improve their eating habits, and exercise more. It truly is a jumpstart to a total life transformation!" Dr. Lopresti said.
Dr. Lopresti also has five tattoos, but did not get his first until the age of 31! His pieces demonstrate his love of medicine and his family. He counts the caduceus medical symbol, his family tree and an audio wave file of his son saying "I love you" among his collection.
Dr. Lopresti's wife, Mary, is an oncologist; he has two children, a six-year-old son  and 3-year-old daughter.