Entertainment Host Josh McBride says his hair transplant was a phenomenal experience!
Funny? Check. Smart? Check. Talented? Check. Full head of hair? Not so much. Who can relate? Entertainment Host and Leonard Hair Transplant Associates patient Josh McBride can. As he began his career as an actor in New York in his early 20s, McBride started noticing hair loss. He knew that no matter how talented he was, in his line of work, at some point, his thinning hair would become an issue. So like many men and women, he first turned to over-the-counter Rogaine to try and sustain what he had. "I was beginning to look older than the parts I was auditioning for; much older," McBride said. "Here I was trying to get roles as a 22 year old, and casting directors thought I was 30."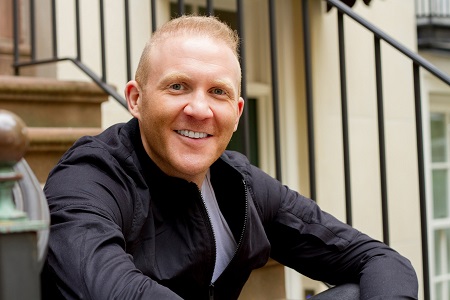 As fate would have it, McBride's career led him down a different path as a talk show host and celebrity interviewer. He's appeared on The Today Show, The Wendy Williams Show , and many others. But, as he continued to thrive in his career, his hair loss remained an issue. "I am my own worst critic. It wasn't about what other people were saying to me, but when I looked in the mirror I thought, 'I look old.'" McBride said. "I just was not confident."
He began researching hair doctors, and when he called Dr. Robert Leonard, he knew he found his guy. "I work a lot and told him exactly what I needed. With Doc, it was never a sales pitch. I spoke to him directly every time, and he even came to visit me in New York. He and Dr. Matthew Lopresti go the extra mile for their patients," McBride said."Dr. Lopresti and I performed a follicular unit excision (FUE) procedure on Josh in July of 2016, transplanting from his hairline to his pre-crown area," Dr. Leonard said. "We worked with Josh every step of the way towards his goal of having a fuller head of hair for his on-camera work."
"It was a phenomenal experience," McBride said. "Drs. Leonard and Lopresti are the nicest guys, and the whole process was quick and painless. Overall, it was just an enjoyable experience for me." Not only did McBride start to notice a change in his hair, but his renewed confidence led to other life-changing decisions as he rededicated himself to working out and getting healthy.
"The decision to have hair transplant surgery was really a decision to change my entire lifestyle. Post-surgery, I started to regain my confidence and it really helped invigorate other parts of my life like eating healthier and exercising," he said.  Following surgery, McBride began using a Low Lever laser therapy cap, which strengthens hair and promotes regrowth. He also started using Leonard Hair Transplant Associates exclusive line of shampoo and conditioner, Copper Chemist, which uses all-natural ingredients to promote hair density while invigorating thinning hair and adding volume.
If you are feeling a lack of confidence due to thinning hair and are ready to make a lifestyle change, contact the team at Leonard Hair Transplant Associates for a free consultation by calling 1-800-543-0660 or by visiting hairdr.com.