Hairlines December 2009 Edition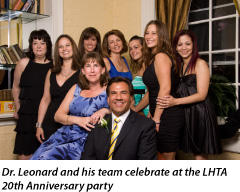 As we set out to start a new year, I want to wish all of my patients and future patients the very best in 2010. It is no surprise to anyone that the last year has hit New England hard economically. However, there are early signs that this recession is slowly turning around – though not soon enough for many.
One of the things that many patients have shared with me this past year was that they needed to invest in themselves – invest by doing something for themselves that made them feel better about themselves.
Lynn Lopes was a wonderful illustration of just this.
Lynn was the top winner of the regional contest we held to help unemployed residents improve their physical appearance and employment status. Unfortunately, RI has all too often made headlines over the last months for having one of the Country's highest unemployment rates, and it's no secret that the economy has an effect on how one feels about oneself, often magnifying negative feelings. If you feel lousy when economic times are good, you really feel terrible during downturns! I have surely been blessed over the last 20 years with my family and friends, but importantly, with the opportunity to have worked closely with so many people who have been upset about their hair loss and were seeking relief.
Hair loss will not in fact stop on its own – one big myth that I hope to dispel in 2010. Hair loss is a progressive condition that needs to be recognized, properly diagnosed, and treated! Interestingly enough, patients who have recently had hair transplant surgery with me have indicated that the procedure was actually much more comfortable than they had anticipated.
I wish I could say I am pleased with the progress that has been made in hair restoration technology. It has again been a disappointment that hair cloning has not reached the research level to be a viable option to offer hair restoration patients. We have been enticed with the idea of cloning for more than 23 years, but it just doesn't seem that it will be available for many years to come. I remain appreciative of the opportunity I have had to be able to be one of the pioneers in the field of hair restoration surgery – traveling throughout the world to teach and learn.
Throughout 2010 – the teaching and learning will continue – as I will be interacting even more with patients and the public via great social media tools such as Facebook, Twitter, and Linked In. I am genuinely excited to have the opportunity to directly engage with everyone on a higher level than in years past – and to be able to share what we're learning, doing, and more importantly, how we can help you!
If you or someone you know is suffering from hair loss, please contact me to schedule a free, confidential consultation to explore the many hair restoration options available. Call 1-800-543-0660 or visit www.hairdr.com.
Happy Holidays and Happy New Year!

Dr. Robert Leonard
Founder and Chief Surgeon