Your November e-newsletter from Dr. Leonard
| | |
| --- | --- |
| It is always rewarding to hear comments like this one from a patient of mine in New Hampshire, who starts each day happy that he decided to do something about his hair loss. Because this patient is well known in his community, I'm going to refer to him only as "R.K." | |
You can see for yourself that his before and after photos are compelling – a look he likes to describe as "dramatic."
As a sophisticated arts and antiques dealer, R.K. didn't notice his hair loss until after he turned 50, and its progression became an increasing personal concern. He knew that he wanted hair restoration treatment, but wasn't sure of the best option for him.
RK asked trusted friends and professionals for recommendations. "I'm a big advocate of referrals," he says. "There are very few choices up here (in New Hampshire). With something as serious as this, I'm not interested in experimenting."
He was ultimately referred to me by a physician and we met at his free consultation. I developed an individual treatment plan that started with his first hair transplantation procedure in 2002. Because male pattern hair loss is progressive, I also began him on Propecia therapy. He has been able to enjoy thicker, fuller hair, with a look so natural that no one knows he's had a hair transplant.
No one, that is, except for his hair stylist of 30 years. R.K.'s stylist, back in his hometown near Westchester, NY, recognizes all of the hair restoration work in that area. When R.K. went back for the visit with his new hair, his stylist remarked that it was the "best work he's ever seen."
If you or someone you know is concerned about losing hair at any age, get realistic answers from an expert with compassion and over 20 years of experience. A confidential consultation takes nothing more than your time. Call me today at 1-800-543-0660 or visit www.hairdr.com.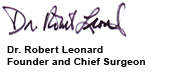 What's New at LHTA
Dr. Leonard was quoted in the New York Post as an expert on presidential elections. See the full story on

www.hairdr.com

.
Dr. Leonard has been elected to the Board of Trustees of the Rhode Island Society of Osteopathic Physicians and Surgeons.
Dr. Leonard was elected to the Board of Trustees of the University of New England.