Your October e-newsletter from Dr. Leonard
It is incredible that our own Dr. Robert Leonard has been specializing in the field of hair restoration surgery for 25 years. You have been watching him on TV, listening to him on the radio, and reading about him in newspapers and magazine, but did you know that that he was not born in Rhode Island?
An ancestral mixture of mostly Greek, but with Irish and Italian blood as well, he was born Robert Thomas Leonard, Jr. on April 17, 1959 in Cambridge, Massachusetts, and was raised in nearby Arlington along with his two sisters.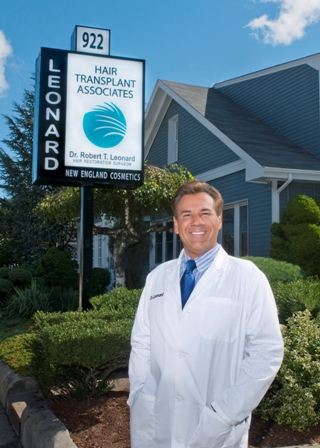 Doc, as he is often called, attended college at the University of New Hampshire and completed his medical training at the University of New England College of Osteopathic Medicine (UNECOM) in Maine in 1986.
It was at UNECOM that Doc made what he considers his wisest decision, marrying classmate and native Rhode Islander, Kathy Gagne. The young couple interned in Florida. Do decided that he wanted to specialize in Obststetrics and Gyenecolgy in the future. 
However, during his internship year in 1986-1987, he met Dr. C.P. Chambers during a fundraising visit at the request of UNECOM. Dr. Chambers owned the second largest hair transplantation surgical practice in the United States.
They hit it off immediately, and Dr. Leonard spent as much of his free time as possible visiting Dr. Chambers' office. However, he still had his sights set on becoming an Ob/Gyn, and started his residency training in Toledo, Ohio the next year.
Doc's residency training was intensive, and he soon realized that he was not able to spend the amount of time he'd like with Kathy, who was pregnant with their first of three children.
Doc had maintained his relationship with Dr. Chambers, who was widely known for being ahead of the times in treatments and surgical techniques, and decided to take Dr. Chambers up on an offer to train under and work for him. With so many office and patients on who to train, Dr. Leonard received an invaluable experience. Before leaving Toledo, Dr. Leonard completed a residence program in Family Practice, since it was very important in those days to be board certified.
In 1989, Doc opened the "Chambers Hair Institute of Rhode Island" in Providence, which would become "Leonard Hair Transplant Associates." Doc opened his first office in Massachusetts a short time later, and, it's New England medical history from there!
A true leader in his field, Dr. Leonard was the Founding Secretary of the International Society of Hair Restoration Surgery (ISHRS). When he witnessed unethical business practices and denigration of colleagues occurring in his field at an alarming rate, Doc embarked on a career mission to raise the ethical standards of his profession, in part by becoming a founding member of the Bylaws and Ethics Committee of the ISHRS. He also served as the Society's president in 1995-1996.
In the mid-1990s, he also participated in the formation of the American Board of Hair Restoration Surgery. He is a Diplomate of this Board and was recently re-certified.
Like Dr. Chambers, Doc has conducted his practice with the same pioneering spirit, always using the newest technology available to treat his patients. To this end, Leonard Hair Transplant Associates is the only practice in New England to use NeoGraftTM, a revolutionary, automated technique which provides patients with a more efficient harvest of donor hair.
Doc is also a world-renowned speaker and educator, regularly presenting at national and international meetings, including the Italian Society of Hair Restoration, the European Society of Hair Restoration Surgery, the Japanese Society of Clinical Hair Restoration, the Brazilian Association of Hair Restoration, and others. These speaking opportunities have allowed him fulfill another of his passions-traveling throughout the world. He has visited every continent except Antarctica-so far!
Doc considers himself very blessed to have such a wonderful family, staff at Leonard Hair Transplant Associates, friends, patients, and career. He hopes to continue to change his patients' lives by providing them with the hair and, often the confidence they have lost, for many more years to come!

Dr. Robert Leonard
Founder and Chief Surgeon
_________________________________________________________________
What's New at LHTA
Dr. Leonard recently returned from speaking at the 19th Annual Scientific Meeting of the International Society of Hair Restoration Surgery (ISHRS) in Anchorage, Alaska. Click here to watch the hair raising video of Doc's hang gliding experience in Alaska!
NBC 10's Frank Coletta and Kelly Bates gave their trademark coffee-cup salute in celebration of National Hair Loss Awareness Month. Click here to watch the video.

The Providence Sunday Journal recently asked Dr. Leonard to share his thoughts on the HairMax LaserComb. Click here to read the article.