Your September e-newsletter from Dr. Leonard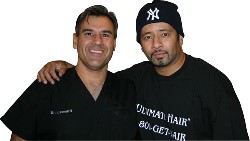 "Everyone around me noticed once it started growing in. They were like, 'Wow! You can never tell you had anything done.' It looks completely natural." -Manny Neves
Manny Neves was born to fight.
He's been doing it since he was fourteen years old, competing in boxing, wrestling, kickboxing, and mixed martial arts.
Now, my friend and patient is mounting a new fight – against hair loss. I'd like to share his story with you.
When he first started losing his hair in his late 20s, Manny didn't know what to do. He worried about his appearance, how it affected his self-esteem and how people viewed him.
These issues are tough for all of us to manage, but they're especially difficult when you're in the public eye as a fighter and boxing instructor.
By his mid 30s, Manny came to me, deciding to take a serious approach to fighting hair loss with surgery. We were very successful and he immediately noticed a difference.
The change boosted his confidence, which he believes improved his performance. Everyone around him noticed he looked better, but no one was sure what he had done. His hair looked completely natural.
He tells people all the time, "It's the best thing for your self-esteem, not to mention your appearance."
Today, years later, Manny plans to have another round of surgery. This new procedure will make his hair denser and thicker. As he says, "It's all about feeling good and looking good."
On September 23, Manny faces his last fight in the ring. After that, he will retire from professional fighting altogether. I am proud to sponsor him in this special event.
I want to wish Manny success on his final match and in all that is to come. If you are interested in following the fight, check Fox Sports Network for date and time.
We'll keep you posted on Manny's progress, both in the ring and in the surgical chair.
Like Manny, you can win the fight against hair loss. I encourage you to call me at 1-888-284-9558 and visit www.hairdr.com for more information today!

Dr. Robert Leonard
Founder and Chief Surgeon
Dr. Leonard in Star Magazine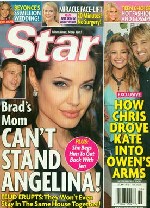 Dr. Leonard was featured in a recent issue of Star Magazine, commenting on whether or not he believed actor Mel Gibson underwent hair transplant surgery.
To find out what he had to say, view the article on our site.