Hardy from 98.5 The Sports Hub Has His Hair Back

If one is good, two is better. That's the approach Rob 'Hardy' Poole from 98.5 The Sports Hub and Lithium on SiriusXM radio took when it came to his hair loss. Having first sought hair restoration from Leonard Hair Transplant Associates, Hardy had tremendous results following a traditional strip-method hair transplant in August of 2016. So why then would he have a second procedure in April of 2018? Because, if one is good, two is better.
"I often get asked why I had a second hair transplant," Hardy said. "And it's not because the procedure didn't work, it's because the procedure did work."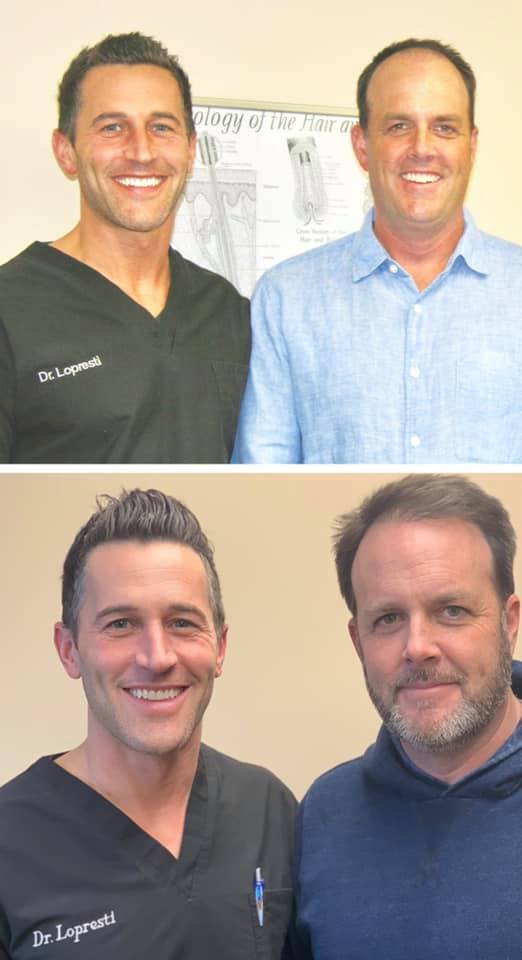 Drs. Matthew Lopresti and Robert Leonard conducted routine follow up examinations with Hardy after his first hair transplant, as they do with all of their patients, to monitor and achieve the best results possible. "They actually moved my entire hairline back to where it was in my wedding photos 16 years ago," Hardy said.
During a follow-up appointment, the doctors and Hardy discussed adding density to enhance the results of the first procedure. "They were right the first time, they know what they are talking about, so it was an easy 'yes' to a second procedure," Hardy said.
"Hardy has been a great ambassador for Leonard Hair Transplant Associates and we are thrilled with his results," said Dr. Lopresti. "In Hardy's case, performing a second hair transplant increased his density in the previously transplanted area and provided optimal results."
"It's just really so natural, both feel and look," says Hardy. "And so much thicker. I think that was the most impressive part of the second surgery, the thickness I see and feel. My hair-loss journey has been a process, and the second hair transplant was an important step in that process," he said.
Hardy, who used to wear a hat to work every day, (and once to a formal office event), is now so comfortable that he confidently ditches the cap, even when his job as an on-air radio host now includes on camera responsibilities. "It's TV, it's social media, it's meeting people in public, it's all about having the confidence no matter where you are."
After two procedures, Hardy says he feels like he's part of the LHTA family, even getting a personal call from Dr. Leonard at home the night of his procedure. "We want all of our patients to feel comfortable and confident, and many times that extends out of the office," said Dr. Leonard. "We like to check in, and recommend routine follow ups for continued monitoring."
If you or someone you know is suffering from hair loss, please contact Leonard Hair Transplant Associates to schedule a free, confidential consultation. Call 1-800-543-0660.