Drs. Robert and Kathryne Leonard Receive Pioneer of Osteopathic Medicine Medal from University of New England
Leonard Hair Transplant Associates is pleased to announce that Dr. Robert T. Leonard, Jr., Founder, and his wife, Dr. Kathryne Leonard, recently received the Pioneer of Osteopathic Medicine Medal from the University of New England (UNE), the highest award given by the institution's medical school. The distinction was presented during the 2019 commencement exercises in May. Both physicians are alumni of UNE's College of Osteopathic Medicine.
"The Pioneer of Osteopathic Medicine medal is presented to individuals who boldly pioneer the field of osteopathic medicine and address the needs and concerns of future graduates by taking a leadership role," said Jane Carreiro, D.O., Dean of the College of Osteopathic Medicine.
Dr. Robert Leonard was honored with the award because, as a graduate of the University of New England, he has been a champion of osteopathic medicine and a true entrepreneur; he has supported medical students at the UNE through its scholarship fund, mentored future DO's and served as a longtime trustee of the university.
Dr. Kathryne Leonard received the award because of her compassion for helping those in medical need. She has traveled several times to a rural township in South Africa to examine patients young and old and offered to them much-needed medical care, as well as tested patients for HIV, a leading killer of young people in the country. Dr. Kathy also went to Haiti after the devastating earthquake in 2010 to treat those devastated by that natural disaster. Together, they funded a state-of-the-art learning space, Leonard Hall, on UNE's Biddeford campus.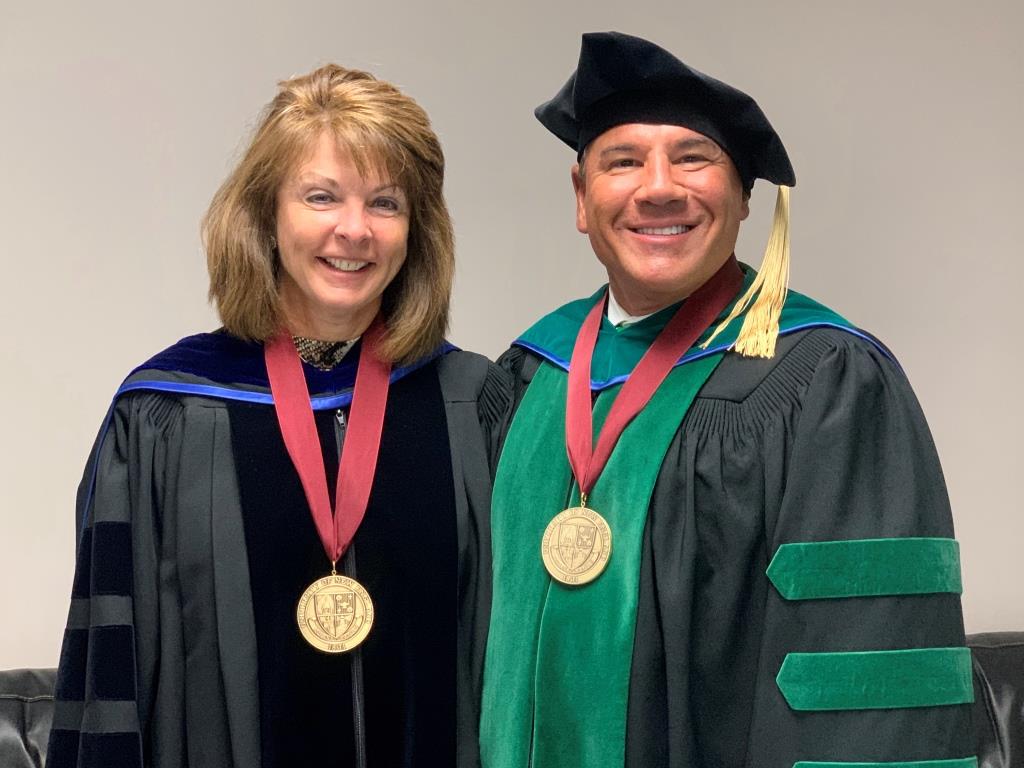 "The University of New England's College of Osteopathic Medicine has provided Kathy and me with many blessings," said Dr. Robert Leonard. "From meeting each other there, to training together, to starting our family and to creating a successful and well-respected practice. The root of those successes was established on the beautiful coast of Maine. It's important to pay forward those successes for the next generation of medical professionals."
Drs. Bob and Kathryne met at UNE's Stella Maris Hall as classmates back in 1982 and married one year later. Since then, they have spent their medical careers helping others together. In 1989, they opened Chambers Hair Institute of Rhode Island in Providence which then became Leonard Hair Transplant Associates, one of the most successful independent hair transplant surgical practices in the United States. Dr. Matthew Lopresti, Chief Surgeon of Leonard Hair Transplant Associates, is also an alumnus of UNE.
Dr. Robert Leonard served on the Board of Trustees of UNE from 1991 to 1997 and again from 2007 to 2017. He also served as President of the Rhode Island Society of Osteopathic Physicians and Surgeons from 1993 to 1994 and from 1998 to 2000. He was the President of the International Society of Hair Restoration Surgery and Secretary of the Rhode Island Board of Medical Licensure and Discipline.