Sean Pearson
Professional hair stylist shows off new hair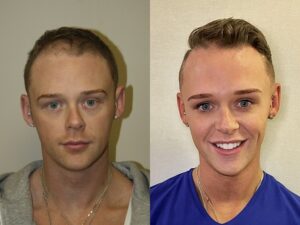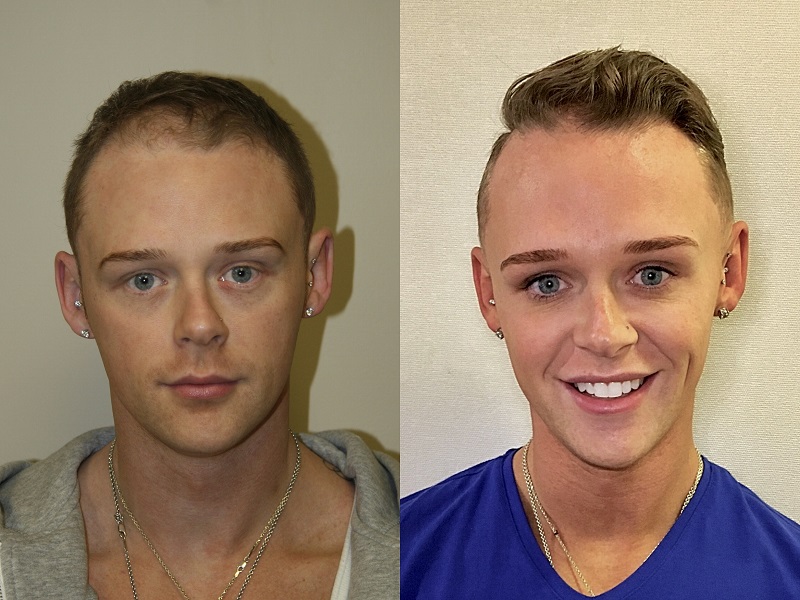 Sean knows hair. Hair is Sean's business. And at just 26 years old, Sean knew in order for business to thrive, he needed to do something about his own hair.
Sean Pearson is a professional hair stylist in Worcester, Massachusetts. He works with hair on a daily basis, providing advice and styling tips for a large array of clients. However, a few years ago the conversation began shifting from his clients' hair, to his own. Sean's clients were starting to notice his thinning hair and it quickly became a topic of conversation. "What's worse," Sean said, "was that I was standing in front of a mirror all day, every day, watching my hair disappear."
Sean did the best he could to hide his hair loss. Being a stylist, he knew the tricks to part it certain ways, and style it to make it less noticeable. But, he was so embarrassed by his hair loss, that he would wait until the salon closed to cut his own hair, so no one would see it.
Sean then noticed his family history; a fully bald uncle and balding father, and started to put the pieces of the puzzle together. "In almost all cases, hair loss is hereditary," says Dr. Robert Leonard of Leonard Hair Transplant Associates. Sean started taking over-the-counter pills and ROGAINE® to ward off his now certain hair loss, but after talking to a client who was a patient of Leonard Hair Transplant Associates and using a Low Level Laser Cap, he went straight to the pros at Leonard.
"I knew right away I needed, and wanted hair-replacement surgery," Sean said.
"Sean was very eager to have hair transplantation, and after our initial free consultation, we concluded he was an ideal candidate," Dr. Matthew Lopresti said.
Sean had an FUE (follicular unit excision) hair transplant utilizing the ARTAS robotic system in April of 2016, with a focus on his central frontal area. "I saw results very quickly and am now proud to say 18 months later that I have a full head of hair. New clients don't believe me when I tell them I had a hair transplant," Sean said.
Sean continues to treat his hair loss with Rogaine and Propecia, as well as the Low Level Laser Cap to slow down any progression on his non-transplanted hair.
"As far as the surgery itself, I can honestly say it did not hurt at all. Not before, during or after. In fact, I went shopping at the mall the day I had it," Sean noted. He now recommends Leonard Hair Transplant Associates to all of his clients, keeping business cards on his desk. "Dr. Leonard and Dr. Lopresti were awesome. They did not overpromise. They were direct and honest, and did what they said they were going to do. I cannot express how pleased I am with the entire process," Sean said.