How to apply Rogaine Foam to the scalp
Rogaine Foam is a popular hair loss treatment that is FDA-approved for both men and women. It contains minoxidil, which is a medication that is known to stabilize and slow down hair loss. The foam formulation of Rogaine makes it easier to apply and is less greasy compared to the liquid version. In this blog post, we will discuss how to apply Rogaine Foam to the scalp and its effectiveness in treating hair loss.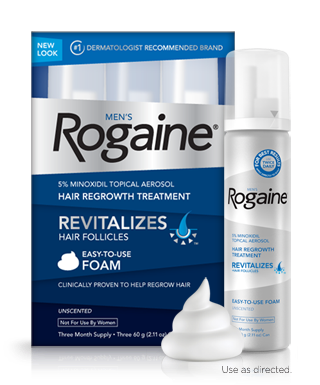 Rogaine Foam should be applied twice a day, every day, for best results. Also, do not exceed the recommended dosage as it may cause side effects. Before applying Rogaine Foam, it is important to make sure that your scalp is dry and clean. Do not apply Rogaine Foam to wet hair or a wet scalp. Here are the steps to apply Rogaine Foam to the scalp:
Step 1:  Part your hair in the area where you are experiencing hair loss or thinning.
Step 2:  Shake the can well before use.
Step 3:  Hold the can upside down and dispense half a capful of foam (or about the size of a ping-pong ball) onto your fingers or onto the part of your scalp where you want to apply Rogaine Foam.
Step 4:  Use your fingers to massage the foam into your scalp and make sure it is evenly distributed.
Step 5:  Wash your hands with soap and water after applying Rogaine Foam.
Step 6:  Wait for at least four hours before washing your hair or applying any other hair care products.
The effectiveness of Rogaine Foam may vary depending on the cause and severity of hair loss. It may take several months of continuous use before you see noticeable results. Also, if you stop using Rogaine Foam, any new hair growth may fall out within a few months.
By following the instructions on how to apply Rogaine Foam to the scalp and using it consistently, you may see an improvement in hair growth. However, it is important to consult with our office before using Rogaine Foam to determine if it is right for you.
Dr. Matthew Lopresti
Chief Surgeon