Rogaine Foam Works!
You know the old expression:  you can lead a horse to water, but you can't make him drink…
This is how I often feel when patients do not use choose to use these stabilization therapies.  Rogaine Foam works extremely well to treat the hair loss that bothers them so much and is why they are in consultation with me seeking my expert medical advice!
People have their own reasons why they do not want to use stabilization treatments.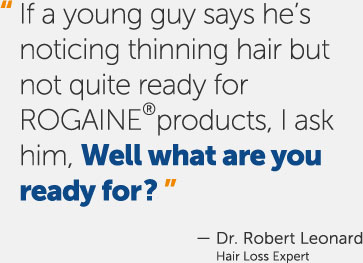 For Rogaine Foam, they don't want to use it forever.  This medication only works while it is stimulating the follicle so if you stop using it, all the benefits it provided for you will reverse.  It's true!  However, they are educated about this before they begin to decide to use it.  If it is not used, then their hair loss will get worse!  Others say that they cannot be bothered to apply it to their scalps twice a day.  It literally takes about 15 seconds to apply this medication once you get the hang of applying it.  Well, that's the dosing protocol of this medication.  It is what it is!
Dr. Robert Leonard
Founder and Chief Surgeon
Leonard Hair Transplant Associates