Low Level Laser Therapy A Lesser Known, but Very Effective Treatment For Hair Loss
Way back in the year 2000, I introduced low level laser therapy (LLLT) to New England as the latest treatment for male and female pattern hair loss. I had learned about this technology from a colleague of mine in Florida who was having great success in using it on his patients. Since then, I have treated over 5000 men and women using it.
During the hair loss consultation with me, we discuss this modality along with hair transplantation surgery, Propecia and Rogaine Foam as effective therapies for hair loss. As with any hair loss remedy, it takes time—a lot of time—to see results. I pride myself, along with my staff, to provide our patients with our expertise coupled with compassion in holding their hands through the long process of hair restoration. We really do an excellent job in this regard.
How It Works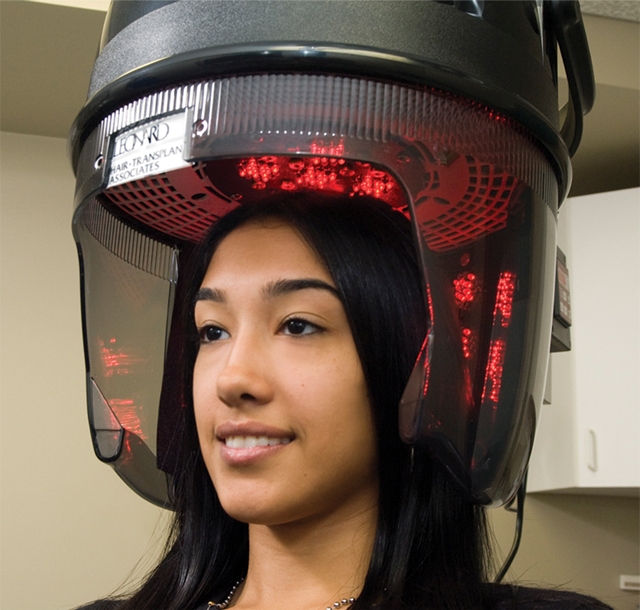 I must confess, I am not a nuclear physicist, nor do I portray one on TV or in the office! What I explain to my patients about LLLT is that it is another non-surgical tool that especially slows progression of hair loss as well re-grows hair in a certain percentage of individuals.
Many patients have had some experience with lasers in medicine; most commonly with lasers that were ablative in nature such as those used in hair removal, skin rejuvenation, or retinal repair. I explain to them that the laser that I use is one that is bio-stimulating and not destructive of tissue. It is a "cold", not a "hot" laser. The light energy emitted from LLLT is absorbed into tissue, but it does not heat it as is the situation with ablative devices.
The wavelength of the light energy emitted from these low level laser devices specific for our use is between 620nm and 670nm. These wavelengths fall into the red light and infrared range in the light spectrum, which when delivered at a low power, affects the physiology of the cells in the hair follicle.
I describe this "bio-stimulating" effect to patients as follows. I tell them that LLLT:
1. increases capillary blood flow to the dermis where the follicles reside
2. stimulates the cells of the dermal papilla where the hair shaft is generated within the follicle
3. converts about 70% of hairs in the telogen phase of the hair growth cycle back into the anagan phase
These actions are responsible for what we see in our patients with stabilization of progression of their hair loss and re-growth of their hair.
Please make the time to see me for your complimentary hair loss consultation where we will discuss your particular problem along with the treatments that will be most effective for you.