New Copper Chemist Shampoo and Conditioner for Thicker, Healthier Hair
As a leading medical hair care expert and a practicing physician with more than 25 years of experience in evaluating and treating men and women who are concerned about their hair, I take a holistic approach in helping them with all aspects of their hair care-from medically and surgically restoring hair to offering the very best and well-researched products to care for their hair.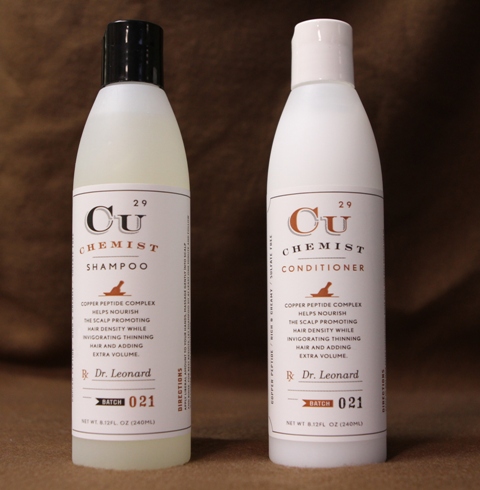 Therefore, I'm happy-no, thrilled-to announce to you our new line of hair care products called Copper Chemist!
After a number of years using our popular HairDr line, we asked our patients for their feedback about that product line and hired experts from the fields of chemistry and the hair care industry about how we could make our shampoo and conditioner even better. Better, meaning to offer products that are healthier to the hair follicle and ones that provide superior ingredients that have been shown to positively impact the hair-especially for those wanting fuller, thicker hair. After a tremendous amount of research, we developed Copper Chemist.
In addition to the regenerative properties of copper peptides, our new and improved Copper Chemist hair care products contain natural ingredients that nourish the scalp, promoting hair density while invigorating thinning hair and adding extra volume to one's head of hair. The refreshing Rosemary Mint fragrance will help you feel refreshed. Plus, Copper Chemist is free of damaging sulfates, phthalates and parabens.
There are literally thousands of hair care products available for sale in stores, in the media, and on-line, which claim to make hair healthier and to make hair fuller looking. The vast majority of them do not have scientific data and real-life experience to back them up. I am confident that our Copper Chemist product line is superior to any other product you have tried to provide benefits for your hair, whether you have thinning hair or just want a thicker, fuller head of healthy hair.