How Long Does Postpartum Hair Loss Last?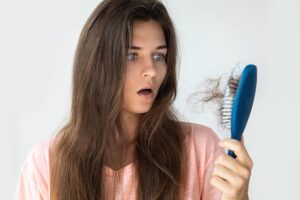 While motherhood is filled with exciting "firsts" in their child's life, new moms may also experience some unexpected events of their own after childbirth. One that can seem startling—but is completely normal and usually temporary—is postpartum hair loss. The condition is commonly referred to as excessive hair shedding and is typically caused by uncontrollable hormones, lowered estrogen levels, stress, and other changes to the body. Our hair restoration surgeons at Leonard Hair Transplant Associates, Dr. Mary Lopresti and Dr. Matthew Lopresti, share more information below about what to expect from postpartum hair loss.
Postpartum hair loss is often categorized as telogen effluvium, a type of temporary hair loss that occurs when a larger number of hair follicles enters the resting (telogen) phase simultaneously. This results in more hair shedding than usual. Generally, excessive hair shedding begins about two to four months after giving birth, in which women may notice decreased hair volume, hair falling out in the shower or stuck in brushes, and sometimes recession in the hairline and temples. As the body readjusts to find its new balance, most women notice their hair returning to normal fullness in the following six to nine months. Keep in mind, the timing may depend on factors such as emotional and physical stresses, immune and healing responses, nutrient depletions, and genetics. However, if you notice prolonged female hair loss nine months from the initial signs of shedding, it is recommended to see a specialist to examine and diagnose the root of the problem.
While there may be misconceptions that certain vitamins, shampoos, and other hair gimmicks can help improve or stabilize hair growth, the truth is there is no actual scientific evidence to prove those claims. Alternatively, an emerging treatment in hair regrowth with overall positive patient results is Platelet-Rich Plasma (PRP) with ACell®. The treatment is designed to inject the patient's own blood (platelet-rich plasma) mixed with a substance that triggers new blood vessel formations and stem cells (ACell®) to stimulate hair follicles and promote the growth of new, healthy hair. PRP therapy is a non-surgical, in-office option that typically takes about 30-60 minutes to complete and should not impact moms who are breastfeeding*. However, safety is of paramount importance, especially for breastfeeding mothers. Before undergoing PRP with ACell® a consultation with our practice is essential. The average PRP therapy patient may see thicker, fuller hair in the treatment area after four to six months, but actual results will vary per person.
For more information about state-of-the-art hair treatments, such as PRP with ACell®, or to schedule a consultation with one of our hair restoration surgeons, please contact us today.
Medical Reference for PRP Therapy