Prince William should treat his hair loss as soon as royally possible
Whether you are a future heir to the British throne or just a regular bloke, a man's hair loss often invokes kidding by others—especially from close friends. That's exactly what happened yesterday in Wales, UK, by one of Prince William's former military associates.
As has been observed for decades, men in the Royal Family tree have had male pattern baldness from William's grandfather, HSH Prince Philip, the Duke of Edinburgh, and his father, HRH Prince Charles, the Prince of Wales, have this progressive condition.  Additionally, his maternal grandfather, Edward John Spencer, the 8th Earl Spencer, was bald.  William has been genetically doomed or predisposed to having male pattern hair loss by virtue of his Royal bloodline.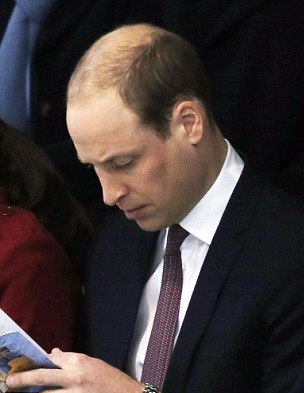 It is far easier to keep one's hair—even for the heir—than it is to regrow it.
There are only three medically sound, scientifically proven treatments to stop progression of male pattern baldness:  Propecia (finasteride 1mg), Rogaine Foam (minoxidil 5%), and the Auxo A300 PRO low level laser device.  One of these treatments alone is okay; two, together, are far better; and, all three at the same time, are the best.  The reason for this is that each of these works of a specific percentage of follicles; so, the more therapies, the more follicles positively affected and, therefore, the better the overall results.
I would venture to conclude that Prince William has done nothing to treat his hair loss; therefore, he continues to lose his hair.  It really is too bad, in my opinion. It is never too late to start these therapies; so, if I were his hair restoration surgeon, I would strongly suggest that he begins all three as soon as possible.
The only definitive treatment for male pattern baldness is hair restoration surgery or hair transplant surgery.
This cosmetic surgical procedure moves hair follicles from the back of the head (donor area), which are unaffected by male pattern baldness, that are moved to areas that are thinning or bald.  The wonder of this surgery is that these transplanted follicles are not subject to the hair loss of the follicles they are replacing.  In fact, they are genetically programmed to grow as they had in the donor area.  These hairs will grow for the rest of the patient's life!
My respectful recommendation for William, the Duke of Cambridge, is to treat both aspects of his hair loss as soon as royally possible.
Dr. Robert Leonard
Founder and Chief Surgeon