August is National Hair Loss Awareness Month
For more than a decade, the month of August of every year is designated as Hair Loss Awareness Month.  For the last 25 years at Leonard Hair Transplant Associates  every month is hair loss awareness month!
I believe it is extremely important to understand how much hair loss of various types bothers most men and women who are experiencing it.  By far, the most common condition causing this angst is androgenetic alopecia, which is better known as male or female pattern hair loss.  The word "alopecia" simply is the medical term for "baldness".  There are several types of alopecia.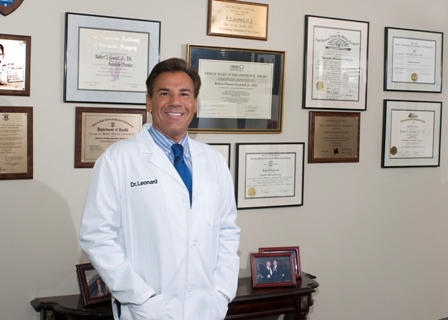 When a patient sees Dr. Lopresti or myself for his or her complimentary hair loss consultation, we describe that there are two major categories of alopecia: Scarring Alopecia and Non-Scarring Alopecia.  Trauma can also cause hair loss.
Scarring of the hair follicles occurs with a few inflammatory skin conditions, which cause permanent damage to the hair.  These conditions are diagnosed by a scalp biopsy and usually are treated medically by a dermatologist.  Some names of these conditions are lichen planopilaris and frontal fibrosing alopecia.
In addition to genetic hair loss, there are a few other conditions causing hair loss that do not scar and destroy the follicle.  These, too, can be diagnosed by a scalp biopsy.  A fairly common condition in this category is alopecia areata. Another is telogen effluvium.
Hair loss can also occur from Trauma, be it from an injury or a laceration or from a surgical procedure.  Cosmetic procedures of the face or brow can leave scarring that needs to be hidden.  Hair Transplantation is a common fix for this type of hair loss.
I hope this review of some of the more common types of hair loss will enlighten you as we recognize Hair Loss Awareness Month in August.
If you have any questions, please refer to my website:  www.hairdr.com or contact Leonard Hair Transplant Associates at 800-543-0660 and one of my team members will schedule a complimentary consultation with one of us.
Dr. Robert Leonard
Founder and Chief Surgeon