Boston Bruins Forward Chris Wagner treats hair loss with Dr. Matthew Lopresti

29-year old Walpole, Massachusetts native and Boston Bruins rugged forward Chris Wagner is commonly referred to as the "Mayor of Walpole". On the ice Chris has a tenacious presence and strong work ethic, and Bruins fans recognized that back in 2019 when they awarded him with NESN's 7th player award. The annual award is given to a Bruins player "who exceeds expectations and goes above and beyond the call of duty."
When Chris started noticing his thinning hair while playing in 'the bubble' during the COVID-19 lockdown, he didn't hesitate to do something about it. You could say that the Mayor took immediate action!
"I never really gave my hair a second thought in my twenties," said Wagner. "It wasn't until I saw an aerial photo of the team from practice that I noticed my thinning hair." Wagner talked to his good friend and teammate Sean Kuraly, who also visited Leonard Hair Transplant Associates to address his hair loss before the holidays.
"Sean and I talked about his experience with Dr. Lopresti and he told me what to expect, how easy it was to take that first step and do something about it. So many people have thinning hair, it's really not a big deal to talk about it anymore," continued Wagner.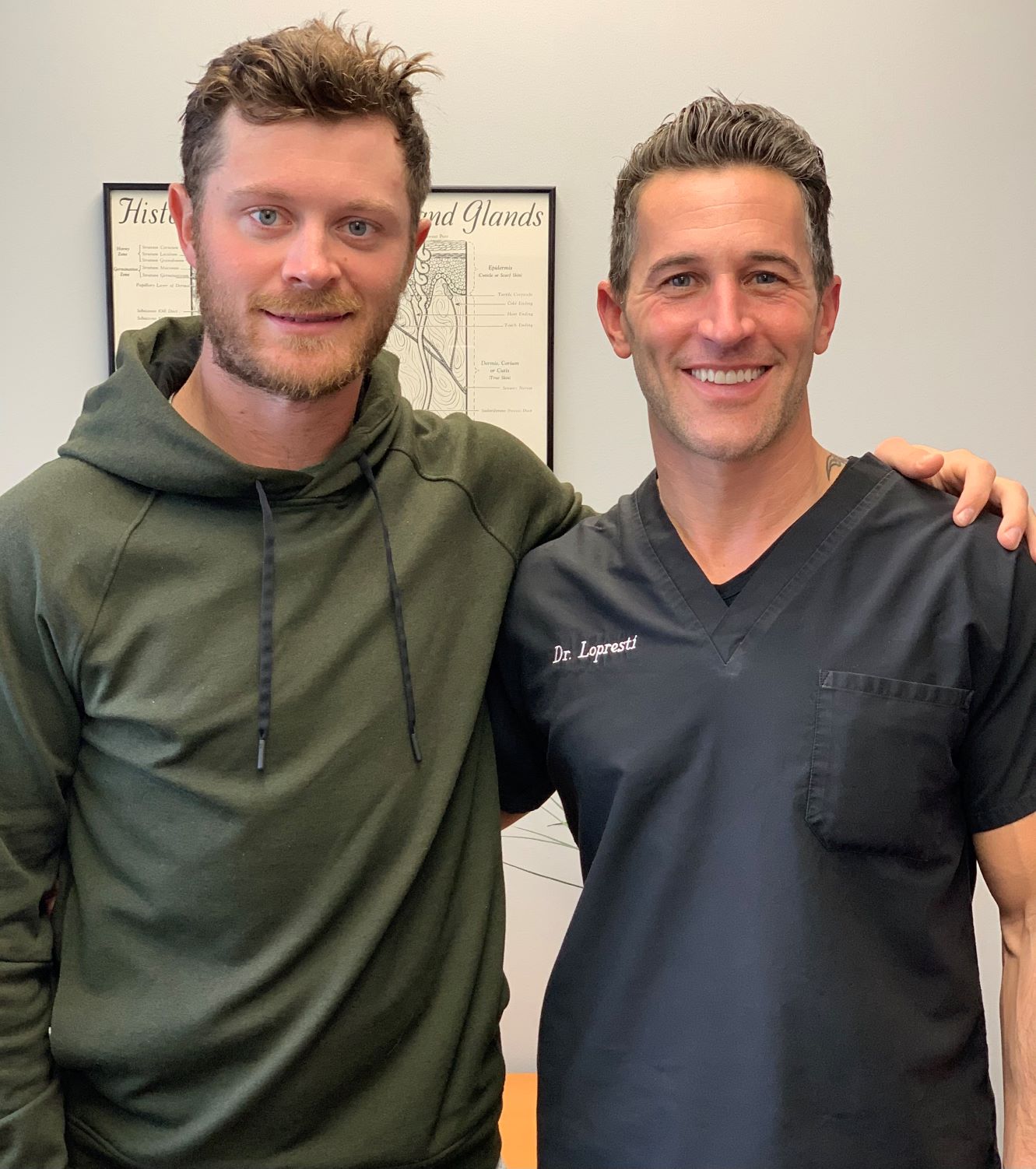 Chris went in for a consultation with Dr. Lopresti in November and found the experience to be fast and easy. "I've heard positive things about Dr. Lopresti from Sean and from some of my other teammates," said Wagner. "When I walked into their Newton office, I saw photos of Wes Welker, Rob Ninkovich, Stephen Gostkowski who are patients and thought that football players must have a lot of hair loss," he joked.
Dr. Lopresti has seen an uptick in younger men wanting to address thinning hair as a preventative measure and before it becomes very apparent to their peers. He recommended Platelet Rich Plasma Therapy (PRP) to thicken Chris' hair and stabilize any further progression. "The earlier someone can address thinning hair, the better," said Dr. Matthew Lopresti. "In Chris' case, the front of his hairline is not impacted, but he does have thinning on the top of his head which is incredibly common. We were able to address this with PRP treatments in our Newton office."
Chris says that it was business as usual for him the day of his PRP treatment. "I worked out in the morning, came in around noon and was ready to go. I knew what to expect because Dr. Lopresti explained everything to me and I wasn't nervous at all. It was an easy process and I was done by around 12:30." Wagner joked that his teammate Sean Kuraly is afraid of needles, but fortunately he has no problem getting PRP with Dr. Lopresti.
That evening, Chris took it easy but didn't feel any pain. "That night and the next morning, I felt fine, and within 48 hours, I was back to working out like nothing had happened." When asked if he'd recommend Platelet Rich Plasma Therapy to friends or teammates, he said that he already had. "I know a few guys who have gone into Leonard Hair and they're very happy with the results. Hair loss is extremely common and if people want to take the steps to prevent it, they should. Dr. Lopresti is an excellent doctor and there is nothing to be scared of. As soon as I noticed I was starting to thin, I did something about it. There's no shame in addressing a very common problem."
It is critical to address hair loss early on to slow the progression of thinning. So, if your hair loss is bothering you—at any age—know that you are not alone. Seek out our vast expertise at Leonard Hair Transplant Associates in treating men and women with proven medical and surgical treatments coupled with a sympathetic and customized approach to each and every one of our patients. To learn more about Platelet Rich Plasma (PRP) treatments at Leonard Hair Transplant Associates, contact us at 617-965-7400 or online at www.hairdr.com.