Your March e-newsletter from Dr. Leonard
Hope Murphy of Coventry, Rhode Island visited my Cranston office in 2010. Like many people, she was experiencing hair loss, but she did not want to let hair loss define who she is as a woman.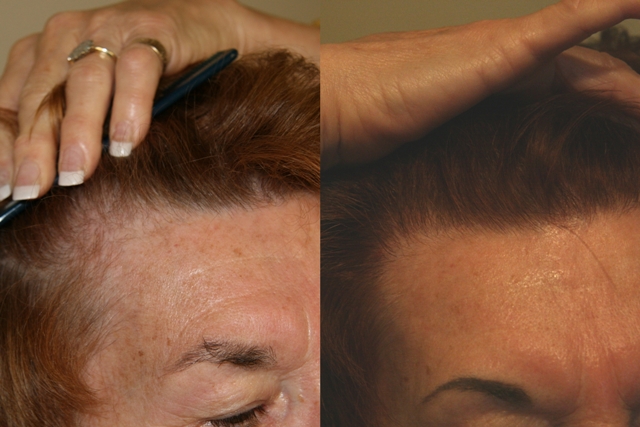 For many years, hair loss has been thought of primarily as a problem for men. However, it is actually one of the most widespread yet untreated problems among women. 30 million female baby boomers are losing their hair and too often they are left feeling ignored.
For Hope, getting back a full head of hair was about restoring the confidence she had lost and improving her self-esteem, "I wanted my hair back so that I wouldn't feel so self-conscious when I parted my hair, or when the wind blew the hair away… It wouldn't look like I had bald spots."
She took the first step to accomplishing her goal by scheduling a free, confidential consultation with me.
After examining Hope's hair loss and listening to what she wanted to get out of her treatment, we decided together that the best course of action was hair restoration surgery using NeoGraftTM, the latest cutting-edge technology available for hair transplantation.
"I decided to use this procedure after talking to Dr. Leonard, and he suggested it would be a very easy fix. I wasn't scared and was very comfortable during the procedure."
It has been almost two years since Hope's procedure, and she is feeling more confident than she has in years.
"This does so much for your self-esteem. You feel better about yourself. If you're a candidate, you won't be sorry. Go see Dr. Leonard. Talk to him. Let him give you the confidence and the knowledge so that you can make a decision; you will not be sorry."
It would have been easy for Hope to let her hair loss define who she was as a woman, always worrying about how she styled her hair or if a big gust of wind was going to expose the truth. Instead, she was able to look in the mirror and confront her problem head on by scheduling a free consultation.
If you or someone you know if suffering from hair loss like Hope, please contact me to schedule a free, confidential consultation to explore your options – both medical and surgical – by calling 1-800-543-0660 or by visiting www.HairDr.com.

What's New at LHTA
Hurry….sale ends April 1st on HairDr products. Purchase any 3 HairDr products for $36 (saving 25%!). With the convenience of the HairDr Store available online, you can take advantage of this limited time offer with the simple click of a button. To visit the HairDr Store, click here.
Why buy mascara when you can redo your eyelashes or eyebrows… with real hair? Yes, hair restoration surgery to fill in thinning eyebrows or to enhance less-than-lush eyelashes is the latest trend in the quest for the aesthetic ideal. The website GoLocalProv recently asked for my comments on hair restoration for brows and lashes. Click here to read.
I'm excited to announce I've been accepted into the membership of the North American Hair Research Society (NAHRS). The NAHRS is a non-profit organization that not only studies the causes of hair loss, but also investigates possible new treatments for hair loss disorders. Click here to read the press release.