November Hairlines e-newsletter "Hair Transplant Surgeon Becomes The Patient"

After being a surgeon for 28 years, changing roles to become a patient was unfamiliar territory for Dr. Robert Leonard.  But, on August 20, 2014, Dr. Leonard put his hair in the hands of his protégé, Dr. Matthew Lopresti, to perform his hair transplant.
After careful evaluation of Dr. Leonard's hair restoration needs, the doctors agreed to use the ARTAS® Robot device to assist in the procedure.  "We chose ARTAS® for Dr. Leonard's procedure because it fits his needs and is currently the most technologically-advanced technique in the our field," said Dr. Lopresti. "This robotic device is the first and only FDA-cleared, physician-controlled, computer-assisted technology for hair transplantation.  It is a minimally invasive solution and provides premier results and no donor area linear scarring."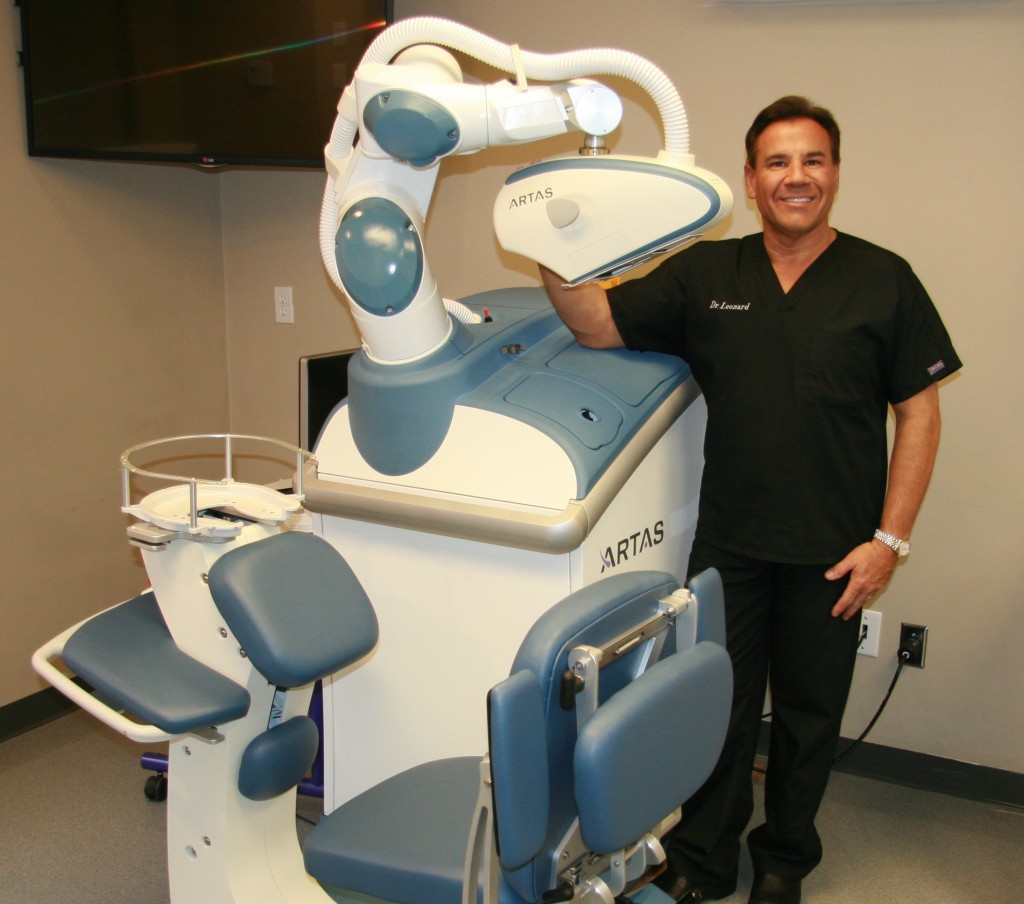 Dr. Leonard's own experience in the chair was precisely how he describes it when discussing ARTAS® with his patients.  "The medication Dr. Lopresti gave me kicked in very nicely!" said Dr. Leonard.  "I sat comfortably in the ARTAS® procedure chair, my donor area was numbed and the harvesting began.  The best thing about it was that I felt very little during the entire procedure. After the follicular units were extracted, a small bandage was applied and I was off to the placement chair where my recipient areas was numbed, tiny incisions were made, and the harvested grafts were transplanted."
For more than two years, Dr. Leonard has been performing FUE (follicular unit excision) using the ARTAS® Robot device.  Now, he brings an even more personal understanding of the patient experience having gone through this procedure himself.  In January, Dr. Leonard will see the first signs of early growth; the perfect start to the New Year!
Dr. Leonard is one of approximately 50 million men in the United States who suffer from hair loss.  Following his own advice, he took action early to treat his hair loss. If you or someone you know is facing this issue, take action and visit Leonard Hair Transplant Associates for a free consultation with Dr. Leonard or Dr. Lopresti. Call 1-800-543-0660 or visit www.hairdr.com.

Dr. Robert Leonard
Founder and Chief Surgeon
Leonard Hair Transplant Associates