The FDA cleared Capillus272 works for Jackie Eckhardt

You may have seen the Capillus272 on a recent episode of the Dr. Oz show. You may have seen it at the mall or in a movie theater, and didn't even realize it. The Capillus272 looks just like a stylish baseball cap. It's inconspicuous, and can be worn anywhere without drawing attention, which helps patients like Jackie Eckhardt.
Eckhardt is now able to receive treatment for her thinning hair in the comfort of her home. This retired Spanish teacher said she's always had thin hair, and says it became "noticeably thinner" 15 years ago.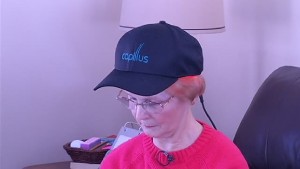 She finally decided to see hair loss expert, Dr. Robert Leonard. "Jackie's been a patient for the last 15-plus years," Dr. Leonard said. "She has typical female pattern hair loss or genetic hair loss."
In her 15 years as a patient, Jackie's had nonsurgical treatments as well as hair transplant surgery. But, thanks to advances in the field, instead of driving to Dr. Leonard's offices for treatment, now all she has to do is don her Capillus272.
The Capillus272 contains 272 laser diodes. It's the most powerful unit for home use available in the country," Dr. Leonard said. "This is not a hot laser, it's is a bio-stimulating laser, which impacts the hair follicle in a very positive way."
Normally, patients like Jackie would have to go to Dr. Leonard's office up to 40 times per year to receive this low-level laser therapy. Now, Jackie can receive the same results at home with the Capillus272, enabling her to spend less time driving to office visits and more time doing the things she loves to do – all while receiving her hair-loss treatment.
Jackie wears her laser therapy cap every other day for 30 minutes. She's been doing so for more than a year, but says she noticed a difference pretty much right away. "Within about three weeks, my hairdresser noticed. She said, 'Wow, this is really working,'" Jackie said. "My hair has more volume and strength. The hair looks and feels stronger."
Dr. Leonard said that while hair transplant surgery creates new hair, it doesn't prevent future hair loss. And, that's where low-laser therapy is making a difference. According to Dr. Leonard, 90 percent of patients are able to stabilize the progression of hair loss and 50 percent regrow their hair using the Capillus272.
The Capillus272 generally costs less than paying for in-office treatments and may also be an option for those who are in the very early stages of hair loss as well. If you or someone you know is experiencing thinning hair, and want to learn more about hair loss or the Capillus272, contact Leonard Hair Transplant Associates to schedule a free, confidential consultation. Call 1-800-543-0660 or visit www.hairdr.com.
Dr. Robert Leonard
Founder and Chief Surgeon