Spring Sale! $4 off Copper Chemist Shampoo and Conditioner
The spring sale is here on Copper Chemist hair care products. From now until May 15th of this year, Copper Chemist Shampoo and Conditioner will be discounted $4 per bottle. Take advantage of this savings today because the sale ends May 15th.  As you know, this hair care line is excellent for the health of your follicles—and, therefore, the health of your hair.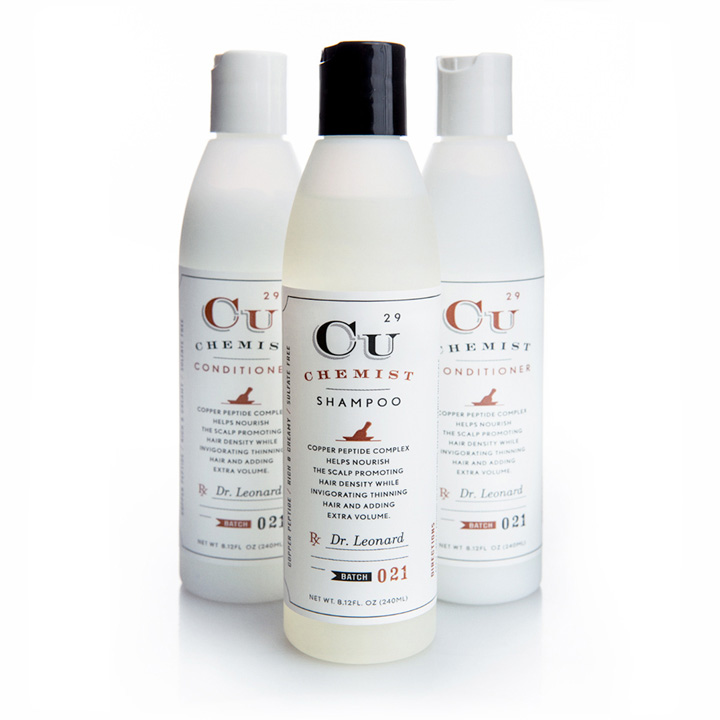 Many of today's hair care products are made with harsh detergents that actually damage our hair. Copper Chemist replaces these detergents with naturally-occurring extracts, including Copper Peptides, to promote healthy, strong and radiant hair.
Between the ages of 20 and 60, the level of Copper Peptides in human plasma drops by 60 percent, from 200 ng/ml to 80 ng/ml. Just as we take vitamins to give our body a boost, we should use hair-care products designed to give our hair a boost and improve its overall health.
In addition to Copper Peptides, other ingredients in Copper Chemist Shampoo include the super anti-oxidant Green Tea, as well as Red Algae Extract (Carrageen) which is a proven free radical scavenger that provides 500 times greater anti-oxidant benefits than Vitamin E. Nutrient-rich oils such as Camellia, Sunflower and Rice Bran make hair healthy and help give a great shine.
The Wheat and Silk proteins contained in Copper Chemist Conditioner strengthen hair, while Alpha Hydroxy Acids from natural Sugarcane and Fruit Extracts provide a healthy shine and easy manageability.
Copper Chemist is free of damaging sulfates, phthalates and parabens. It is a unisex product, which features an invigorating Rosemary Mint fragrance.
The $4 per bottle savings is available only for online orders and the sale ends May 15th. It's easy to begin your savings, just click here or on the Copper Chemist image.