The Capillus272 PRO Mobile Laser for Treatment of Hair Loss

Low level laser therapy was first cleared by the Food and Drug Administration in 2007 for the treatment of mild to moderate male pattern hair loss for a laser comb device that re-grows hair.  Since then, there have been various clinical studies on various devices on low level laser therapy which have shown the therapy to be effective, well tolerated and safe for the treatment of hair loss.  The Capillus272 PRO has been cleared by the FDA for the promotion of hair regrowth in adult men and women with androgenic alopecia.  It has been deemed safe and effective by the FDA for the treatment of hair loss.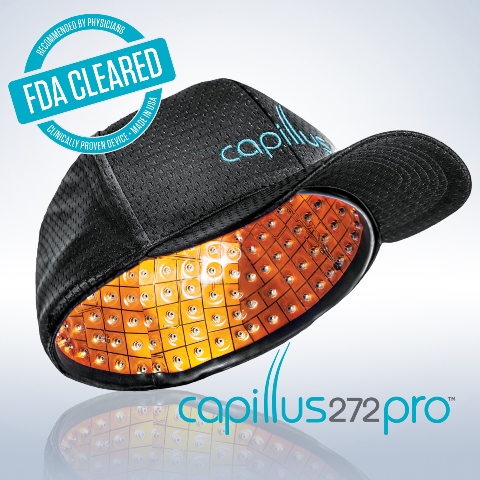 One of the great things about the Capillus product is that it is used at home.  Many people are very busy in their lives – whether it's their social life or work life, so they cannot come to the office for treatments.  The nice thing about this particular unit is that it's very, very compact and fits within a baseball hat.  This is exciting because no one knows that you are wearing it.
The Capillus272 PRO features a laser dome embedded with 272 laser diodes on its interior surface, and is powered by a certified rechargeable battery pack that connects to the dome.  It provides low level laser therapy to the scalp and hair follicles to stimulate cellular activity and promote the flow of blood in the capillary bed, which provides blood flow and oxygen directly to the follicles.  The hands-free design and comfortable fit makes it easy to use.   The Capillus272 PRO is used privately at home while watching television, working on the computer for just one half hour, every other day.  That's the dosing that provides the benefits that we see as far as regrowth, and particularly stabilization of further loss of your hair.
We, at Leonard Hair Transplant Associates, have used Low Level Laser Therapy in our practice for over 21 years.  The Capillus272 PRO is a wonderful option for both men and women who are noticing shedding and/or thinning of their hair, as well as those who are actually balding.  Our patients love it and we love it too!
In this exclusive news interview, retired Boston teacher, Jackie Eckhardt, explains how laser hair restoration with Capillus272® has helped her regain a fuller, natural head of hair.  "After using the Capillus laser hat my hair felt and looked thicker.  Even my hairstylist noticed the difference when she cut my hair."  Check out Jackie's story on NBC by clicking here.
If your hair is not as thick or full as you like, call us now  to schedule your complimentary consultation on this and other medically proven hair loss treatments.  Call 1-800-543-0660 and our team will be happy to assist you to arrange your free hair loss consultation.
Dr. Robert Leonard
Founder and Chief Surgeon