Wes Welker, Brian Scalabrine, Rob Ninkovich and Sebastian Vollmer at Celebrity Bartending Fundraiser
We are so fortunate each year to be joined by family, friends, patients, supporters, and our roster of celebrity patients at our Annual Celebrity Bartending Fundraiser. For those unfamiliar with this event, we recently hosted our annual summer bash at Del Frisco's Double Eagle Steakhouse in Boston's Seaport District. Drs. Lopresti and Leonard, along with patients and former professional athletes Wes Welker, Brian Scalabrine, Rob Ninkovich, and Sebastian Vollmer put their bartending skills to the test by pouring drinks for the guests in attendance. And, all for a good cause!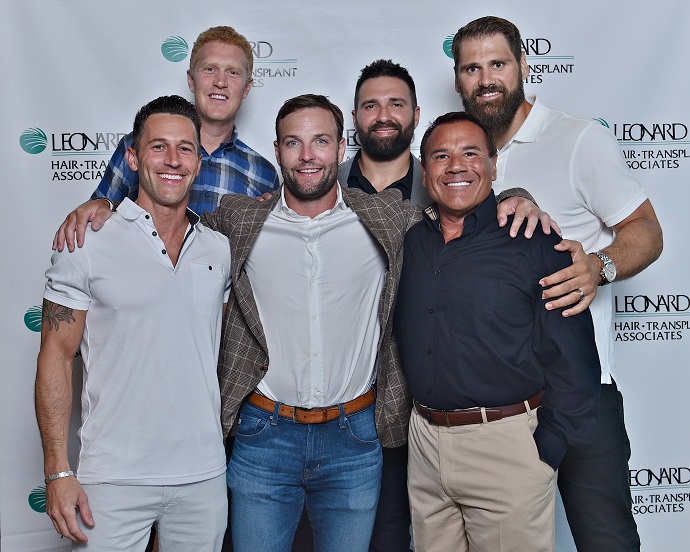 This event was launched four years ago by Leonard Hair Transplant Associates to open a discussion about hair loss and its treatments; one of its goals is to provide men and women in the general public advice and support and let them know they are not alone with their hair loss concerns. Our practice is very fortunate to work with high-profile former professional athletes who have taken the bold step to go public about their hair loss concerns and about their personal medical and surgical treatments. Wes, Brian, Rob, and Sebastian among others have proved to be tremendous ambassadors for our practice, and for the hair restoration profession. They are living, breathing proof that, with proper examination, treatment, and follow-through, hair loss can be arrested and regrowth of lost hair can be achieved with terrific results.
While the evening bartending event is a blast for all in attendance, our day begins at 5:00 a.m. when we all pile into a van (not an easy thing with these very well built athletes!) to begin our media tour to discuss hair loss awareness and the big event. Throughout the day, the group talks with major local media outlets like WAAF, 98.5 The Sports Hub, WZLX, The Boston Globe, The Boston Herald, WCVB-TV Channel 5, WHDH-TV Channel 7, NBC Sports Boston and others, as well as with regional radio and print outlets in New Hampshire, Cape Cod and Rhode Island, and with national outlets like ESPN, NFL Radio and Barstool Sports. The message is clear near and far: no matter who you are, how old you are, how athletically gifted you are, or how famous you are, you can be susceptible to hair loss; and, there are effective treatments to you at Leonard Hair Transplant Associates!
This year we are pleased to be able to donate to a special organization, the Young Fight Strong Program, whose program director is Dr. Lopresti's wife, Dr. Mary Lopresti. The program serves young women, age 42 and under with breast or gynecological cancer, to provide them with support during treatment and through survivorship. Donations will help to provide childcare for those women undergoing chemotherapy with young children.
We thank everyone who attended and, especially, those who made this media and fundraising event a great success once again this year!