Rob Ninkovich – Former New England Patriots Player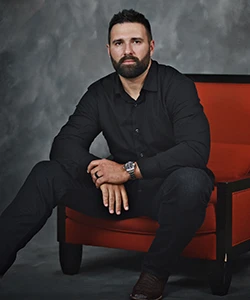 Young men dealing with hair loss are typically fighting a battle against genetics, as was the case for former New England Defensive End, Rob Ninkovich, and his male pattern baldness.
"I first started to notice my thinning hair when I was in my early twenties," said Ninkovich.
Playing for the New England defense may not be as flashy as catching passes from their celebrity quarterback, but keeping the other team out of the end zone is vital when it comes to winning games. Rob's versatility and penchant for making big plays are integral to the overall success of the team; when he decided to tackle his hair loss, Rob turned to the best team he knew.
Rob saw Wes Welker's results first hand, and that convinced him to call hair loss doctor, Robert Leonard, of Leonard Hair Transplant Associates.
"I am happy that Rob chose to treat his hair loss early on," said Dr. Leonard. Rob's family has a history of hair loss, so intervening early will yield the best outcome.
After an initial consultation in the Newton, Massachusetts office, Rob chose to move forward with addressing his male pattern baldness.
"When you go to talk a doctor you need someone that's going to be able to relay information to you that doesn't make you nervous," said Ninkovich. "Dr. Leonard has a great personality, great charisma, and I knew right away he was going to be the right doctor for me."
Over 50 million men in the United States experience hair loss, which often only becomes noticeable to others once approximately 50% of a person's hair has fallen out. Rob hopes his experience will encourage others to address hair loss in its earliest stages.
"If you are experiencing hair loss I would recommend seeing Dr. Leonard," says Ninkovich. "Stopping further progression is important and that's why I called Dr. Leonard.