Hardy from 98.5 The Sports Hub Restores His Thinning Hair

There are many traits that help to define a man, and for most of his adult life, Rob Poole, known to millions of listeners across New England as 'Hardy,' was defined by his voice. Hardy is on air as part of The Zolak and Bertrand show on 98.5 The Sports Hub, a ratings leader in the Boston radio market, and the latest patient of New England's foremost experts in hair restoration, Dr. Robert Leonard, Dr. Matthew Lopresti and Leonard Hair Transplant Associates.  While many recognize Hardy for his unmistakable voice, few took much notice of his appearance. Those that did noticed only one thing: his trademark baseball cap.
"People heard my voice and pictured me being younger than I looked," Poole says. "I started wearing a hat to make my appearance match how I sounded and how I felt."  Under his trademark cap, Poole was experiencing male pattern hair loss. "I started noticing my hair loss in my mid-twenties, and began wearing a hat everywhere I went. I didn't like the way I looked without one," Poole said.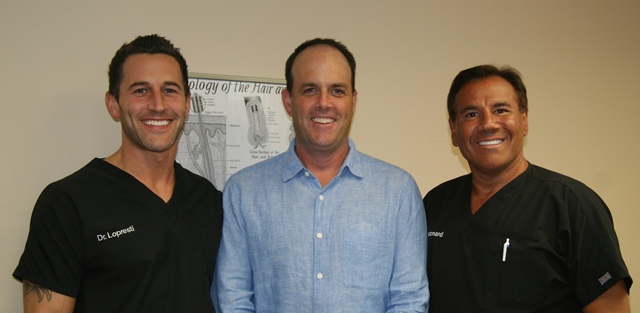 Doing more television work opened him up to more criticism, and when one fan caught a glimpse of 'Hardy' without his hat on, a parody Twitter account was created called, "Hardy's Forehead."   "That's when I really started thinking it may be time to do something about this," Poole said.
So he went directly to another patient of Leonard Hair Transplant Associates, Sports Hub radio personality, Fred Toucher. "Listeners know Fred is not exactly the most positive person, but he could not say enough good things about his experience with Dr. Leonard, and his decision to seek a hair transplant procedure," Poole said.  Knowing professional athletes like former and current New England Patriots Wes Welker, Rob Ninkovich and Sebastian Vollmer were also patients of Leonard Hair Transplant Associates, made the decision to consult with Drs. Leonard and Lopresti that much easier. "I look at those guys and think if they can do it, and be open about it, what's stopping me?" Poole said.
Poole initially consulted with Dr. Leonard in June of 2016, and underwent a traditional method hair transplant procedure in August.
"He should begin seeing results in about six months, and will really start noticing in a year," said Dr. Leonard.  "Hardy is another example of someone who unnecessarily had to hide behind a hat when there are many treatment options easily available."
Poole says he has not had one negative reaction to his decision to undergo a hair transplant. In fact, most people just express their desire to see the results. Poole says he was impressed with the entire staff at Leonard Hair Transplant Associates, especially Dr. Leonard and Dr. Matthew Lopresti, who also helped perform his surgery.
"I haven't had many health procedures, so I didn't know what to expect.  The night after the procedure my phone rang and it was Dr. Leonard calling me personally to see how I was doing.  I found that incredibly impressive," Poole said.
Thanks for the efforts of Leonard Hair Transplant Associates, Rob 'Hardy' Poole will soon be defined not only by his voice, but also by his new head of hair.
Hair loss impacts 50 million men in the United States.  If you or someone you know is faced with hair loss issues like Hardy, contact Drs. Leonard and Lopresti to schedule a free, confidential consultation. There are so many options out there and the results can really change your life! Call Leonard Hair Transplant Associates at 1-800-543-0660.
Dr. Robert Leonard
Founder and Chief Surgeon