Fred Toucher – 98.5 The Sports Hub Radio Host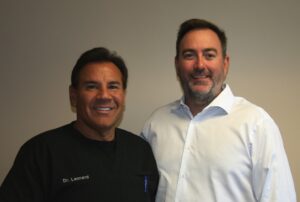 Fred Toucher started losing his hair in his mid-twenties and tried taking matters into his own hands. Like so many young men with thinning hair, he used alleged home remedies, shampoos and over-the-counter products with no results. "I was just throwing money away" said Fred.
Fast forward ten plus years and Fred's career as a radio personality grew bigger and bigger, but his hair was still not growing. Fred is now the co-host of Boston's number one rated morning show "Toucher and Rich" on 98.5 The Sports Hub and also appears on television with Comcast SportsNet New England. He is no stranger to the public eye and, therefore, is very conscious of his image.
When it came time to research Boston hair transplant surgeons, the choice was clear. "Dr. Leonard is easily the top hair loss surgeon in New England" said Fred. "His reputation in Boston is well known since he worked on Wes Welker and other celebrities."
"After my consultation with Fred, I immediately knew he was a good candidate for a hair transplant procedure ," stated Dr. Robert Leonard. Like the majority of hair loss patients, Fred's male pattern baldness was a genetically inherited condition. As a progressive condition, male pattern baldness will continue to worsen if left untreated. Dr. Leonard explained to Fred the details of his hair restoration procedure, including how the treatment is performed and an estimated timeframe for when he could expect to see results.
Spring 2014 is when Fred had his transplant with Dr. Leonard in his Newton office. Fred recalls "being a little nervous", but Dr. Leonard put him at ease and "before [he] knew it, the procedure was over." During his surgery, Fred was seated in a comfortable, well-cushioned chair made especially for patients undergoing the hair transplant process. Patients are able to choose from a number of relaxing activities to keep them entertained during their session, such as listening to music and watching television or movies. The procedure is not considered painful, and many patients describe feeling only a touching and/or pressure sensation. In Fred's case, he was "checking the internet and being normal."
"Every guy has thought about it [hair transplant]," said Fred, "and today more men are open to talking about hair transplant procedures to achieve the look they desire".
If you or someone you know is suffering from hair loss like Fred, please contact Leonard Hair Transplant Associates to schedule a free, one-on-one consultation with one of our hair restoration surgeons to learn which option may be most suitable for you.