Stephen Gostkowski – New England Patriots Super Bowl XLIX, LI and LIII Champion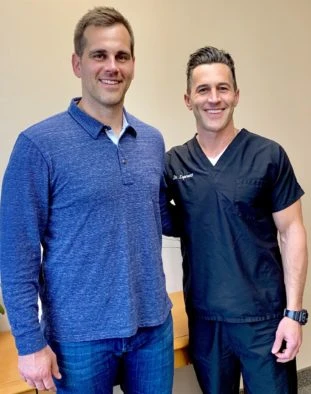 At 35 years of age, long-time Patriots kicker Stephen Gostkowski is considered 'old' for professional football, but as he aptly points out, not old for life. He's not even the oldest person in the Patriots locker room; I think we all know to whom that distinction belongs. And, while 35 might typically mean the winding down of an NFL career, Gostkowski knew there was plenty of time to make important life changes; for him, that included addressing his thinning hair.
"I am around a bunch of 21 to 22 year olds—the best athletes in the world," he said. "They call you old guy, and bust your chops a bit; it's a shock to the system."
Gostkowski had heard it all in the very close-knit Patriots locker room. While he had noticed his hair thinning in photos over the years, it was not until his wife remarked on it, that he really thought about seeking treatment. "She came to me in a very caring way, and pointed out that I was really thinning and when I compared photos from ten years ago to today, I really noticed it," Gostkowski said.
"It is very common to have a partner, friend, or loved one point out hair loss," said Leonard Hair Transplant Associates (LHTA) Chief Surgeon Dr. Matthew Lopresti. "It is not always easy for these people to bring up the issue because they don't want to cause hurt feelings. However, it's important to notice and to treat hair loss early, before too much progression occurs."
Luckily for Gostkowski, he shared a locker room with LHTA patients like Wes Welker, Sebastian Vollmer, and Rob Ninkovich. "I remember seeing Rob with the cap on his head at the team hotel on a road trip," he said. "At first I laughed and asked if it worked. Rob was insistent that it was effective, and it was important to take action early."
Gostkowski scheduled a free consultation with Dr. Lopresti. "He was great. I did not get a salesmen-type vibe from him. He simply showed me my problem areas and gave me my options, with no pressure at all," Gostkowski said.
"Stephen came to us at the right time before his hair loss had progressed too far. I did not recommend hair transplant surgery as he still has decent hair density. Luckily, through non-surgical methods, we will be able to stabilize his loss," said Dr. Lopresti.
Gostkowski chose to use a Low Level laser device, (that fits inside a baseball hat), which contains 312 laser diodes. It is the most powerful unit for home-use available in the country and it is also cleared by the FDA. "By using the Low Level Laser Therapy cap for just 6 minutes a day, Stephen will begin to stabilize his hair loss," said Dr. Robert Leonard. "The main benefit of him using the device is to stop further progression of his hair loss very well and, also, to potentially regrow his hair."
Gostkowski plans to follow this up with Platelet Rich Plasma (PRP) therapy this summer. The PRP process uses the patient's own blood, which has been spun in a centrifuge to separate the plasma from the red and white blood cells. LHTA's trained medical staff injects the plasma, combined with a stem cell generating additive called ACell®, into the patient's scalp to stimulate new growth.
Much like his former teammates, Gostkowski felt it was important to go public to encourage others to seek treatment for their hair loss issues.
"If you gained extra weight, you'd go on a diet. This is no different. I chose to be proactive to better myself moving forward, and I think bettering oneself is something we can all get behind," he said. "There's still this feeling of embarrassment, but there shouldn't be. You can't be worried about what people think. If you are doing what's right for you, there's nothing to be embarrassed about."
As for his experience with Dr. Lopresti, Gostkowski said he was a "cool, laid back guy." "He's about my age, and really understood exactly what I was going through."